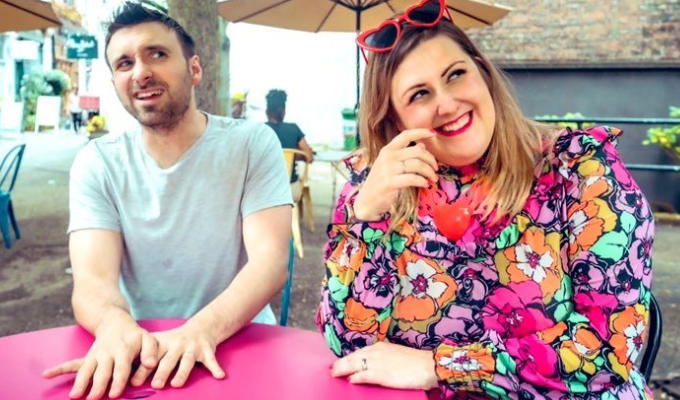 False Economy podcast reveals comedians' spending lives
⬛ SPONSORED CONTENT
Comedian Vix Leyton is hosting a new podcast, False Economy, in which high-profile guests from the world of comedy and beyond share some of their best and worst financial decisions.
The stand-up – a consumer finance expert by day who also hosts the Comedy Arcade podcast – is partnering with Paul Watson, the former international football manager turned author and sports writer. The brother of stand-up Mark Watson, he takes on the role since he offers similar skills to Mark but, in the spirit of the show, at a significantly cheaper price.
Across nine episodes False Economy rummages through the mental shopping baskets of well-known guests including Zoe Lyons, broadcaster Nick Hancock, musical stand-up and Voice semi-finalist, Jordan Gray, TV presenters Dick and Dom and comedians Mark Watson and Milo McCabe aka Troy Hawke of The Greeters' Guild.
Guests are invited to discuss the best deals they've ever found and the worst rip-off they've endured, as the podcast gets to the bottom of their spending styles, habits and quirks they didn't know they had, and any wisdom they learnt along the way.
They are also invited to reveal what they think their social media ads are trying to tell them, and compete against Paul in a quickfire game that riffs on the politician's favourite 'How much is a pint of milk?'
The first four episodes are available now, featuring Great British Bake-Off contestant, writer and podcaster Michael Chakraverty and award-winning comedians Zoe Lyons and Scott Bennett, chatting through their shopping highs and lows. Plus a Pre-fringe Jordan Gray musing on the very inappropriate ads Facebook show her that are very much NSFW.
Vix said: 'Before stand up I worked in money saving and personal finance for years, and felt there was a proper gap in the market for honest, judgement-free conversations about spending. Everyone loves nosing through things that are typically private.
'Whether we're ranting about rip-offs or sharing savings, it's fascinating to lift the curtain on high-profile people and see how they approach these universal experiences. Paul and I have very different views on shopping - I am an impulse buyer and he can't even remember the last thing he bought.
'We have learned loads along the way from a variety of guests at different life stages, there was natural opportunity to share tips and tricks, as well as getting the lowdown on everything, from what you get to keep when you're on Bake Off, to what happens after The Apprentice.
'The guests were really honest, and we hope the conversations are entertaining, insightful and useful.'
• The first episodes of False Economy, powered by Hotukdeals, are available here, or wherever you get your podcasts.
Published: 8 Sep 2022