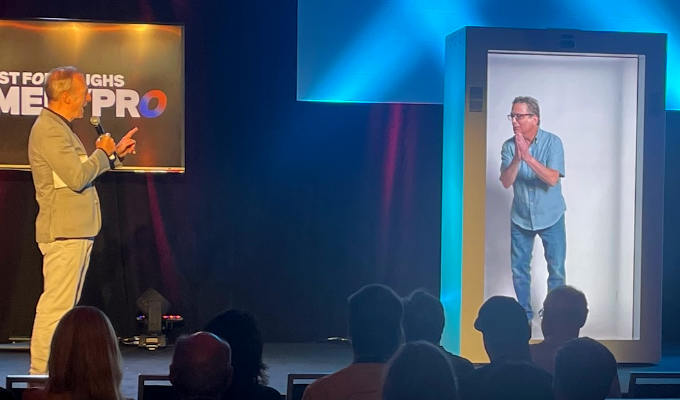 Holo laughter
Andy Kindler has become the first stand-up to deliver a live comedy set via hologram.
The American comic used the technology to deliver his annual State of the Industry address to Montreal's Just For Laughs festival direct from Los Angeles, 2,800 miles away.
Performing in the studio of 'holoportation' company Proto, he was able to see and hear and interact with the audience and session host Bob Odenkirk in real time
'Help me,, Help me, Odenkirk Kenobi, you're my only hope…' he began his set, before pointing out it was a Star Wars reference, just in case anyone missed it.
He later quipped: 'I'm a hologram. Coachella got TuPac, and you're getting JewPac'.
'Look at it this way, I'm in Van Nuys and you guys are in a hotel ballroom in Montreal laughing at nothing - it's just like a Kevin Hart show!'
'I sent my hologram to the therapist, she said you're projecting...."
'Of course, I'm doing this hologram thing for my own safety--not from the Covid, but from the punching. I'll give $20 to anyone who can keep their wife's name out of my hologram's mouth.'
The technology was also used to create the first hologram podcast at Just For Laughs, when Jay Pharoah and the Sklar Brothers in Montreal joined Howie Mandel and his daughter Jackelyn Shultz for their podcast, Howie Mandel Does Stuff.
Proto, which was established in 2019, has also been used recently by Logan Paul, Ellen DeGeneres, Sean 'Diddy' Combs, Usain Bolt and Lewis Hamilton, as well as corporate clients.
Published: 1 Aug 2022