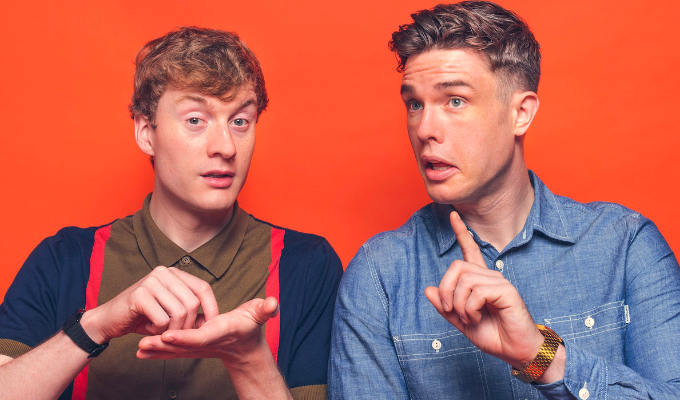 Off Menu goes to Montreal's Just For Laughs
Off Menu with Ed Gamble and James Acaster will be recording a special episode at Just For Laughs in Montreal.
The prestigious festival has today announced the taping as part of a raft of new programming – as well as the recipients of its annual awards.
Amy Schumer will be named Comedy Person Of The Year, Hasan Minhaj is Stand Up Comedian Of The Year, Taylor Tomlinson is Breakout Comedy Star Of The Year and Jerrod Carmichael will be take the award for Comedy Special Of The Year. All will be at the festival to accept their accolades on July 29.
Tomlinson's second Netflix special, Look At You, was released earlier this year while Carmichael – whose solo show at the festival has also been announced today – takes his award for the critically acclaimed HBO special Rothaniel.
Other main shows unveiled today include a second date of Schumer's Whore Tour plus Amanda Seales, Pete Holmes & Friends and Chris Distefano plus a live version of Jake Hurwitz and Amir Blumenfeld's advice podcast If I Were You – one of a host of podcasts to be taped at Just For Laughs.
Festival organisers have also announced details of the ComedyPRO strand of events for the sizeable industry contingent who descend on Montreal
Keynote speeches will be given by Neal Brennan – the co-creator of Chappelle's Show who now works on The Daily Show with Trevor Noah – Seales and Canadian comedian Sophie Buddle.
Another highlight is Variety's 10 Comics To Watch showcase. This year's cohort are Rosebud Baker, J.R. De Guzman, Vanessa Gonzalez, Jay Jurden, Matteo Lane, Claudia O'Doherty, Atsuko Okatsuka, Blair Socci, Moses Storm and Sheng Wang.
The Off JFL strand of solo shows has also been massively expanded this morning. Nish Kumar – who was already announced as part of the festival's Brit(ish) show will be performing a solo show, as will Australians Sam Campbell and Zoë Coombs Marr.
Also on the roster are Big Jay Oakerson, Dave Merheje, Yannis Pappas, Preacher Lawson, Ms. Pat, Rachel Feinstein, Nimesh Patel, Sheng Wang, Aida Rodriguez, Solomon Georgio, Sklar Brothers, Zainab Johnson, and Surrounded.
A couple of mixed bills will also be recorded for audio release on the JFL Originals label this autumn.
Full details of the festival are available from the official website.
Published: 29 Jun 2022
Recent News
What do you think?