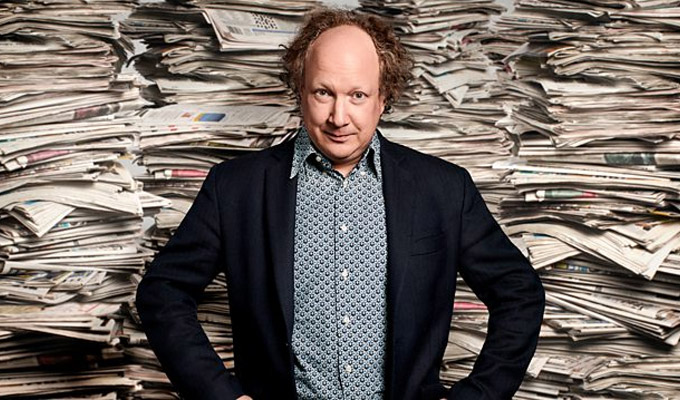 BBC pulls its Friday Night Comedy podcasts from Apple and Google
The BBC is taking its popular Friday-night radio comedy shows off all the major podcast platforms – except for its own.
Programmes such as The News Quiz, Dead Ringers and The Now Show will soon only be available on BBC Sounds, as executives force listeners to use the Corporation's own platform.
Friday Night Comedy is currently in the top ten comedy podcasts on both Apple and Google in the UK, but will soon be withdrawn as part of a pilot scheme.
Episodes will be available exclusively on BBC Sounds for 28 days after broadcast, after which they will be available on other audio platforms. But as the shows are based around topical events, their relevance will be greatly diminished after a month.
Other BBC radio programmes coming off podcast platforms as part of the pilot are In Our Time, Desert Island Discs, Inside Science, Money Box, and 5 Live: All About Sport
In a statement, the BBC said: 'From March we're also going to make a small number of our radio programmes available for on-demand listening first on BBC Sounds.
'We want more people to use BBC Sounds to listen to their favourite BBC audio, and to easily discover more from the BBC. This gives licence fee payers even more value.
'The world of audio listening is constantly changing, and the global tech giants are more routinely publishing content exclusively on their platforms. We want to make sure people can easily find new things from the BBC and can't rely on other platforms, who have their own exclusive content and a global catalogue to promote, to do this for us.
'That's why in the next month or so when new episodes of some of the BBC's loved radio programmes broadcast on Radio 4 or 5 Live they will then only be available on demand on BBC Sounds for a month. After that month, they will also be available on other audio platforms through the RSS feed.
'We're doing this as a trial to see what the impact is on listening on BBC Sounds and we hope listeners do use this as an opportunity to try out Sounds, and discover and enjoy more brilliant BBC audio.
'We know people have established ways of listening to on-demand audio but we also know many people already use multiple apps and platforms to listen to their favourite content.
'BBC Sounds is improving all the time and now has lots of features which we know are popular with listeners such as allowing people to continue listening between different devices, to pause and rewind live radio, and improved ways of recommending something new to try.'
Published: 27 Jan 2022
Recent News
What do you think?