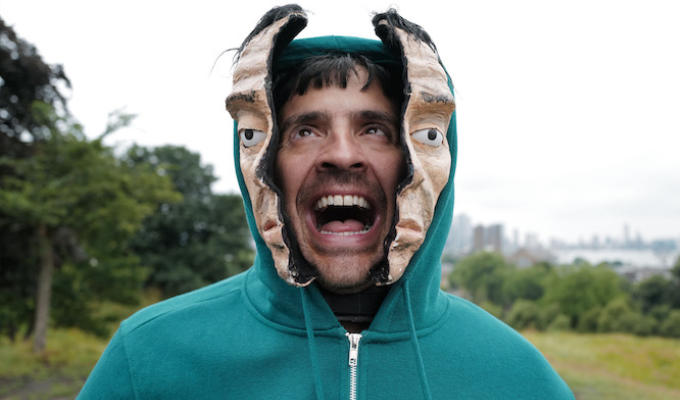 Return of the Herbert
Here's our pick of the best comedy programmes on TV, radio and on-demand this week:
Tuesday January 25
AZIZ ANSARI: NIGHTCLUB COMEDIAN: Netflix's first new special of the year and Ansari's first since 2019's Right Now, addressed the claims of misconduct on a date that threatened to derail his career. This show was filmed in December at 'an intimate surprise gig' in New York City's Comedy Cellar and features Ansari discussing Covid, the White House, and the virtues of flip phones, among other topics.
TOAST OF TINSELTOWN: After attending a masterclass given by Richard Chickentoss (Matthew Holness) on 'how to act like a doctor', Toast (Matt Berry) lands the role of a doctor in a TV show alongside Latino singing sensation, Carmen (Berry's What We Do In The Shadows co-star Natasia Demetiou). Everybody thinks his ability to act like a doctor is sensational. The show is a huge success, and top producer Bellender Bojangles (Belinda Stewart-Wilson) offers Toast her a place to stay in her Beverly Hills. But after an unfortunate incident with a fan, Toast finds himself written out of the show. BBC Two, 10pm
TUDUR OWEN: UNITED NATIONS OF ANGLESEY: In 1978 a Japanese film crew came to 12 year-old Tudur Owen's farm on Anglesey to make a programme about his life for a TV show called Children Of The World. Then a Patagonian gaucho turned up. As did a man claiming to be a geology student called Hector. But were they all what they seemed? A new two-part series written and narrated by comedian Tudur Owen. Radio 4, 6.30pm
Wednesday January 26
THE MIND OF HERBERT CLUNKERDUNK: Edinburgh Comedy Award-nominee Spencer Jones returns as his alter ego who's still no closer to getting his work, family or his imagination under control. Every flight of fancy that dances through Herbert's brain can lead to inanimate objects coming to life, music videos springing out of nowhere. Lucy Pearman stars as his wife Bobby Kindle. There's an interview with the stars and an exclusive preview clip here. BBC Two, 10pm
THE John Moloney SHOW: The comic returns to Radio 4 with the fifth season of his stand-up series, with routines that will include a look back at his time in an Irish folk group and having a colonoscopy. Not at the same time, we assume. Producer Richard Melvin of Dabster Productions called Moloney 'one of the most consistently funny, kind, and supportive people I've had the pleasure of working with over the years.' Radio 4, 11.15pm
THE TUCKERS: Steve Speirs's sitcom returns for a six-part series, starting with a double bill, when the dodgy family are forced to face the consequences of their unsuccessful money-making schemes and the potential failure of their beloved company, Tuckers Catering. BBC One Wales, 9pm
Thursday January 27
THE BOOSH: Noel Fielding and Julian Barratt's breakthrough show from 2001 gets a rerun. BBC Radio 4 Extra, 11.30am
Friday January 28
THE AFTER PARTY: This murder-mystery comedy series featuring Jamie Demetriou lands on Apple TV+. The Stath Lets Flats comedian dons an American accent for his role in the ensemble show revolving around the death of a pop icon at a high school reunion. The cast also includes Tiffany Haddish, Sam Richardson, Zoë Chao and Ben Schwartz. Here is a trailer:
THE WOMAN IN THE HOUSE ACROSS THE STREET FROM THE GIRL IN THE WINDOW: Meanwhile Netflix also launches this comey thriller starring Kristen Bell as the titular woman who things she witnesses a murder Rear Window/Girl On A Train style. She's called the show a satirical psychological drama, explaining: 'It's based on all of these psychological novels that were written for women, by women. The formula's always the same. She drinks too much. She might be mixing it with pills. She thinks she sees a murder. No one believes her. There's so much formula to it that we thought it was about time that somebody poked fun at it.'
QI: Ivo Graham, Stephen K. Amos and Holly Walsh join Sandi Toksvig and Alan Davies. BBC Two, 9pm
8 OUT OF 10 CATS DOES COUNTDOWN: Lee Mack and Joe Wilkinson take on Jon Richardson and Jessica Knappett, with Nigel Ng in Dictionary Corner. Channel 4, 9pm. It's followed by The Last Leg, returning for a 24th series.
Published: 23 Jan 2022
Recent News
What do you think?