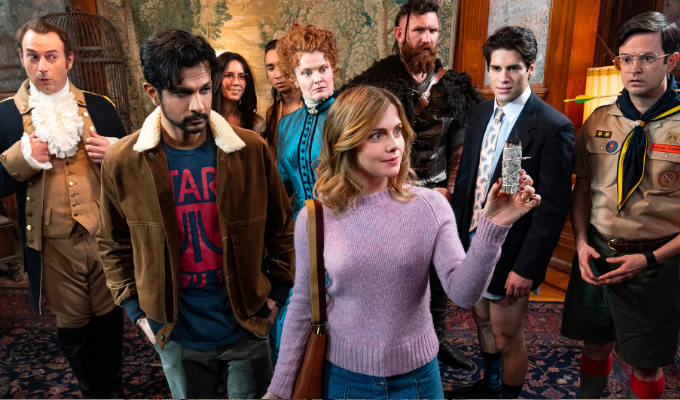 America gets more Ghosts
America's CBS network has ordered more episodes of its Ghosts remake.
The broadcaster tonight airs the fourth of seven episodes originally commissioned – but has now committed to full season.
Senior executive Thom Sherman said: 'We're thrilled this spirited new comedy has struck a chord with viewers and critics alike and is off to a great start
'We've loved Ghosts since day one, and thank the outstanding executive producers, cast and writers for skillfully bringing to life the boldest, most unique comedy you'll find anywhere on television this season.'
The series has become the most-watched comedy this season, with the opening double bill's 5.5million audience growing to 7.8million when catch-up views in the following week are added.
It stars Rose McIver and Utkarsh Ambudkar as a struggling young couple, Samantha and Jay, who inherit a beautiful country house, full of spectres only Samantha can see.
The creators of the British original – Mathew Baynton, Jim Howick, Simon Farnaby, Laurence Rickard, Ben Willbond, and Martha Howe-Douglas – are all credited as executive producers on the remake and will benefit from the new instalments.
However, the exact episode count for the full series has yet to be finalised.
Here's a trailer for the forthcoming Halloween episode:
The ghosts in the US version are:
Hetty: A 19th Century matriarch played by Rebecca Wisocky, Samantha's ancestor
Isaac: Played by Brandon Scott Jones, he's a foppish War Of Independence hero, jealous of Alexander Hamilton.
Alberta: A Jazz Age diva Alberta played by Danielle Pinnock, who may have been murdered
Trevor: A party-loving 1980s Wall Street bro, played by Asher Grodman
Sasappis: A sarcastic Native American played by Roman Zaragoza
Flower: A 1960s hippie played by Sheila Carrasco
Pete: A Scout leader who died by getting an arrow through his neck played by Richie Moriarty
Thorfinn: A fish-obsessed Viking played by Devan Long
Published: 21 Oct 2021
What do you think?