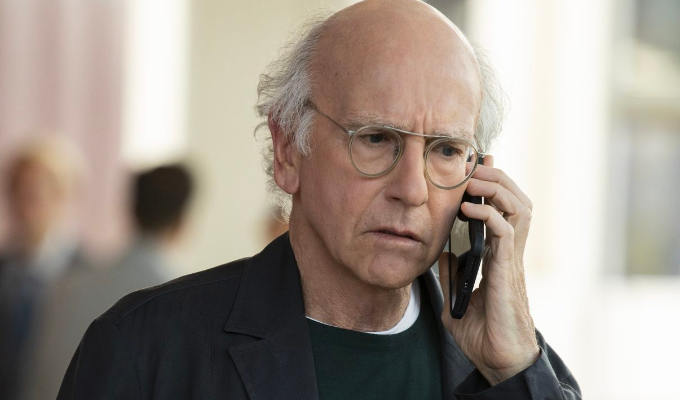 Curb Your Enthusiasm to air in UK one day after US
The 11th season of Curb Your Enthusiasm will launch on Sky Comedy on October 25, the broadcaster has announced.
Episodes will air at 9pm weekly, just one day after they air on HBO in the States.
Details of the storyline have been kept under wraps, but a trailer show Larry David getting irate about toasting, traffic jams and his towels. 'I'm not an everyman' he confesses in the teaser.
Guest stars for the new series include Tracey Ullman, Patton Oswalt, Kaley Cuoco, Albert Brooks, Lucy Liu, Woody Harrelson, Bill Hader Julie Bowen, Rob Morrow and return appearances for Jon Hamm and Vince Vaughn.
The blurb for the 11th seaisb says: 'Surviving a fatwa; barely navigating the post-#metoo landscape unscathed; pioneering an influential new retail model powered entirely by spite. All par for the course for Larry David - still living the good life out in Los Angeles and stumbling through one faux pas after another. Returning for his eleventh series, Larry continues to prove how seemingly trivial details of one's day-to-day life – a cold cup of coffee, a stained shirt, a missing toothbrush – can precipitate a catastrophic chain of events.'
Co-star JB Smoove has hinted the series would incorporate the Covid pandemic m telling reporters: 'I can't tell you guys everything, but what I can say is Larry is really good at attaching his humour to the world and that's consistently what he has done since Curb has been on HBO. He's a master at it.'
Other returning co-stars include Susie Essman, Jeff Garlin, Cheryl Hines, Richard Lewis and Ted Danson. Garlin, who is also an executive producer on the show, today announced a run of UK gigs for next year.
Published: 18 Oct 2021
What do you think?