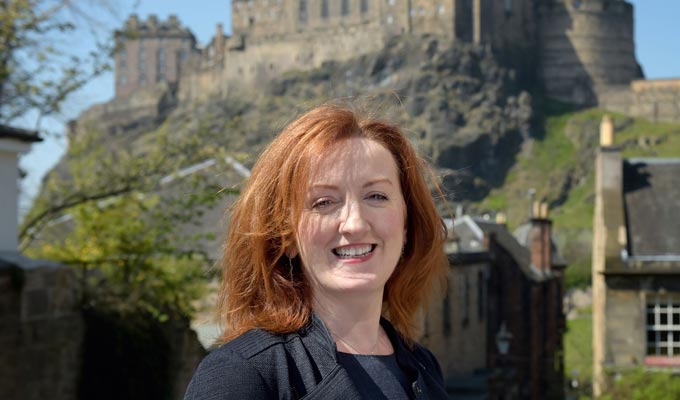 Edinburgh Fringe boss: We're not measuring success by our size any more
Organisers of the Edinburgh Fringe have declined to reveal how big this year's festival was – saying it's time to 'stop defining success by scale'.
This year's festival, which came to an end yesterday, was a fraction of its normal size as uncertainty over Covid rules hammered planning for live events.
In 2019, the Fringe Society, which puts together the programme, proudly announced that more than 30,000 artists put on 3,841 shows in 323 venues, with three million tickets sold.
But today its chief executive, Shona McCarthy, said: 'Traditionally, this day in the Fringe calendar is all about statistics: how many shows took place, how many tickets were bought, and what that means. But this year, I'd like to stop defining success by scale.
'For me, that's never been what makes the Fringe special. Success should be defined by the quality of experience we've all had – and what we're hearing from performers and audiences alike is that this year's Fringe has been hugely successful indeed.
'When registration opened in May, we had no way of knowing for sure what this summer would look like. Today, we celebrate every single show that has been brought to life. I'd like to personally thank and congratulate everyone that made it happen, as well as our audiences, sponsors and supporters who have cheered us on and offered much-needed support through this wild and unexpected year.
'We've still got work to do to ensure the Fringe recovers – but recovery isn't about growth in the statistical sense. It's about growth as a Fringe community.'
Much of this year's festival offering was also programmed by the free operators Laughing Horse and PBH Free Fringe, which bypassed the official organisers – as did many last-minute additions staged by venues such as Monkey Barrel.
Some individual operators have released figures.
The Pleasance revealed that its box office take this year represented just 6.5 per cent of its 2019 ticket revenue.
It staged 316 performances of 54 shows in four live venues, plus 346 productions of 28 shows online, selling just over 36,000 tickets.
This is in comparison to 5,534 performances of 277 productions in 2019, with more than 560,000 tickets sold.
Artistic director Anthony Alderson said: 'Only eight weeks before the festival was due to start did we get the go ahead from the Scottish Government. In many ways it has felt a little like festivals of old, with a small number of venues and a special programme of handpicked shows.
'The programme may be smaller than ever, but its heart and soul is as gigantic as ever.'
Assembly Festival presented 499 in-person performances across three stages in two venues, and a further 55 digital productions .
Artistic Director William Burdett-Coutts said: 'This year's festival has been a terrific success, and paves the way for the Fringe to return in force in 2022. I am delighted to have presented the calibre of programme that we did.'
One of its breakout stars, comedian Isabelle Farah, said: 'I brought my first full show up this year, a good run at the Fringe allows people to see your work and know what you're about, but I was concerned about how this year was going to pan out.
'Selling out has been an absolute dream. Ellipsis is my best work so far and it's been such a joy to share it with so many people. And after 18 months of things being - ahem - quiet, it's really made me feel alive and motivated again.'
TheSpace, staged 65 shows in 2021 compared to 445 in 2019 – but audiences remained strong in comparison, with 65,000 tickets sold in 2021 compared to 120,000 in 2019. That meant more sell-outs than ever and an average of 78 per cent of seats sold – an extraordinary figure for the Fringe.
Artistic director Charles Pamment said: 'What a festival we've had! Over this extraordinary month we've dealt with forever changing guidelines, amended capacities, applied previously unheard of mitigation to keep everyone safe...and now we can celebrate a quite special month.
'This is testament to the huge appetite, passion and commitment shown by our staff, performing companies and audiences. The community vibe has been unrivalled. We are very proud that TheSpaceUK family have pioneered the return to the live stage at Edinburgh Festival Fringe. We can't wait to host you all in 2022.'
MultiStory, the new socially-distanced venue from Zoo, Gilded Balloon, Traverse Theatre and Dance Base on an NCP car park with dramatic views of Edinburgh Castle attracted 18,000 audience members over the month, an average of 750 a day.
Published: 31 Aug 2021
What do you think?