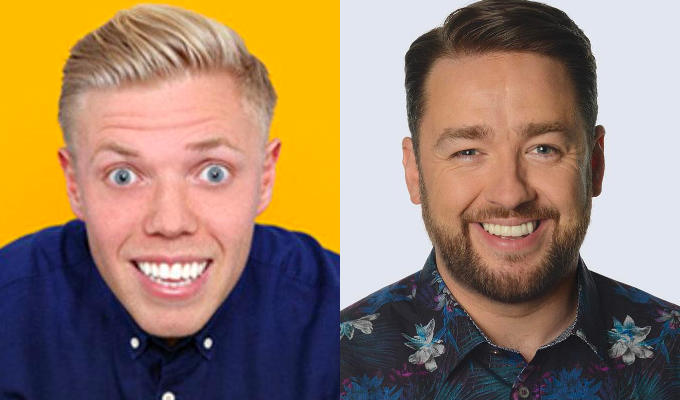 Comedy Central shows for Rob Beckett and Jason Manford
Jason Manford and Rob Beckett are to front two new entertainment shows for Comedy Central.
They have been named as the hosts of trivia format Undeniable and panel show The Complaints Department respectively.
Both programmes were announced in May, when the quiz show had the working title Fact Off.
In each of the six hour-long episodes, four comedians will come armed with the most impressive facts and fascinating trivia they know.
They will then try to outsmart one another over a variety of rounds in a bid to get Beckett to accept their knowledge on to the show's 'Wall of Facts'.
Meanwhile, over the six hour-long episodes of The Complaints Department, two teams of comics will be presented with 'moans, whines and protests' harvested from the internet, tweets, interviews and letters of complaint.
The broadcaster says: 'As well as finding the funny in the complaints, the teams will be bringing their own gripes to get off their chests.'
Both shows are being made by Made In Chelsea and Don't Hate The Playaz producers Monkey.
When the shows were initially announced, the compant's creative director and executive producer said: 'There's nothing the people of this nation love more than being righteously indignant, apart from perhaps claiming an amazing fact they've heard on the bus as their own.
'So, we're excited to have created two shows looking at the funny side of the very British art forms of quality complaining and showing off knowledge which may or may not be true.'
Sebastian Cardwell, deputy director of programmes at Comedy Central's parent company ViacomCBS Networks UK said: 'It's exciting to be further establishing Comedy Central UK as the go-to destination for brilliant British comedy, with new commissions that will fit perfectly within our expanding slate of originals.'
The shows were announced at the same time as Comedy Central's all-fema topical show Yesterday, Today & The Day Before – which was hit by a row over censorship and fared poorly in the ratings, with episode one achieving overnight ratings of just 22,500 viewers.
Published: 2 Aug 2021
What do you think?