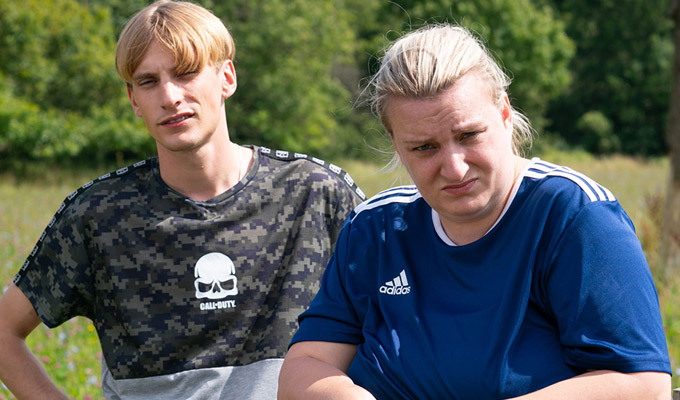 This Country stars to appear in the US remake
Charlie and Daisy May Cooper are to appear in the US version of This Country, reprising their roles as Kurtan and Kerry Mucklowe.
Jenny Bicks, the showrunner for the forthcoming Fox series Welcome To Flatch, made the revelation on the fan podcast WTAF yesterday.
Asked about the possibility of crossover episodes, she said: 'I told Daisy and Charlie this - they will be playing a role in an upcoming episode as themselves, not as Daisy and Charlie, but as Kurtan and Kerry.
'There is opportunity for crossover, but not necessarily in the way you expect. That's all I'll say.'
Welcome To Flatch takes place in a rural Ohio town with the lead characters renamed Kelly and Shrub Mallett, and played by Chelsea Holmes and Sam Straley respectively.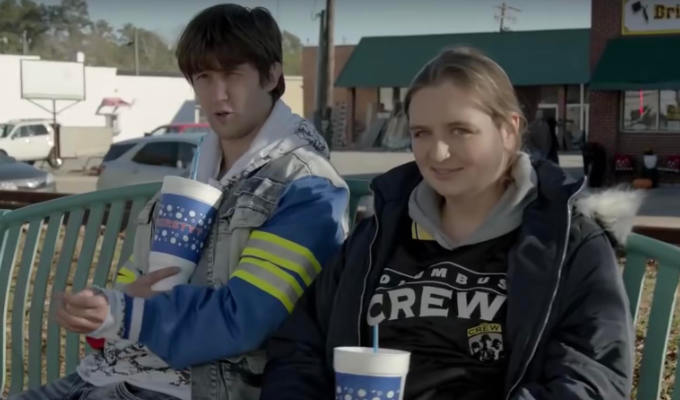 Bicks – who previously worked on Sex And The City and Sharon Horgan's Divorce, as well as writing the screenplay for The Greatest Showman – confirmed other changes to the show, including a wider supporting cast and a different character for the pivotal vicar role.
American Pie star Seann William Scott will play Father Joe, the US version of Paul Chahidi's Rev Francis Seaton.
Bicks, who collaborated with Bridesmaids director Paul Feig on the remake, said: 'The vicar/minister/father is very different from the original vicar. He's goofier.
'There are things that Seann felt really comfortable in his skin being. He [Father Joe] is less good at his job, trying to figure it out a lot more, than the original vicar. And [Seann] is quite familiar with physical comedy so we have him do more physical comedy. I loved the idea he was in a Christian boy band so we actually introduce the Christian boy band and their video… that was a lot of fun.'
And she revealed that Fox executives insisted on the title Welcome To Flatch, rather than This Country, for political reasons.
She said: 'I did not want to change the name because it has such a great brand equity and I love that sense of the uppitiness of a documentary - the sound of being this very important documentary about this whole country, when it's actuallly about these two cousins.
'Fox - and I don't want to speak for them – felt that it was a slightly confusing title for us in America because it sounded like we were talking about the whole country, and we are so politically confused right now it carries more burden than other countries, and I respect that.'
'What I kind of love, which I'm sure Fox didn't realise when they said "yes, let's go with that", is that it's WTF: Welcome To Flatch.'
Network executives also carefully monitored the bad language in the show.
'We bleep the swears and they allow us to have five swears per episode,' Bicks revealed.
'We thought we'd have more so it's been a little difficult. We have a lot of fights with their standards and practices [executives] about what are actually swear words and how much of the mouth has to be blurred when you say certain things.
'So they do let us do a little bit of swearing - enough so it stays true, but not as much, sadly, as the original.
'I was allowed to actually say ballbag - I was really surprised - but we couldn't use the word ballbag more than once, but we can say scrotum. There's a lot of give-and-take.'
But she said that for all the changes – many of them necessary because of references 'so very specific to the British version' – she wanted to stay true to the spirit of the original.
'Charlie and Daisy did such an amazing job with this show,' she said. 'My main goal is just not to fuck it up and hopefully we haven't.
'Nobody wants to be the one who messes up a fantastic, brilliant little gem - it's not worth doing [a remake] unless you can do it as well as you can and do justice to it.
Fourteen episodes have been shot, and are expected to air in early 2022. No announcement about a UK broadcaster has yet been made. The Coopers are also executive producers on the remake.
• WTAF: A This Country Podcast is available on the usual platforms, including Acast, now
Published: 18 Jun 2021
What do you think?