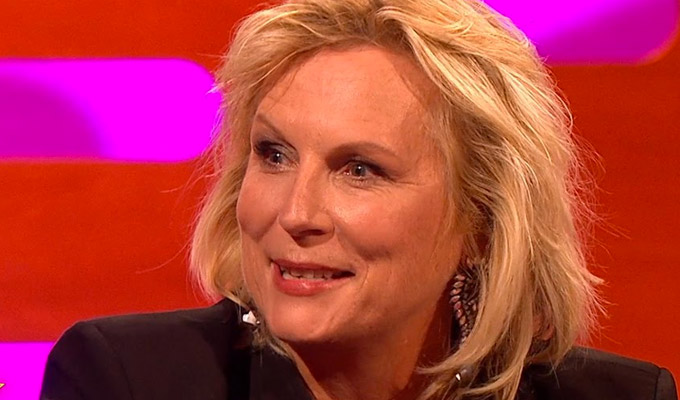 Jennifer Saunders fuels the culture wars
As a pioneer of the alternative comedy movement that banished old-school racist and sexist comedy from the mainstream, you might expect Jennifer Saunders to be alert to changing tastes.
Now the star plunged into the so-called culture wars by slamming what she considers an oversensitive, 'small-minded' brigade sucking the fun out of comedy.
The 62-year-old told an audience in London's West End that, 30 years on from the launch of Absolutely Fabulous, she would not get away with making her sitcom today.
She said: 'What pisses me off? Quite a lot of stuff, actually. I get pissed off by people and gentle criticism all the time.
'This is a modern thing, isn't it? If someone says something it always has to be, "Oh, but sorry, you can't say that". I say, "Oh fuck off".
'It's not a crime to have an opinion or say something. It is always petty and small-mindedness that pisses me off — bigotry and small-mindedness.'
She added that today's sensitivities had 'changed comedy like what we used to make. I think we would probably talk ourselves out of most of it now. It stops a lot of the fun, maybe, like jokes. I remember jokes. Silly jokes.'
It is not the first time she has expressed such sentiments – but given the current media climate framing the world as a battle between the 'woke' and the mainstream, they made the front page of The Sun today, under the banner headline Ab Drab Britain.
And in a leader column the newspaper agreed, saying: 'Comedy with no edge, or simply preaching predictable woke politics, isn't funny even to sentient lefties. But as long as feeble executives at TV networks or other corporations are terrified of a Twitterstorm, the woke puritans will win.'
Saunders made similar comments at the 2018 Cheltenham Literary Festival, saying: 'I think it is harder to write what we used to write now. There is always someone tutting in the back of your mind every time you write a joke that is on the edge: "Don't you think someone might be offended?" It's very tiring.
'Because now you are not allowed to just write comedy and put it on television. You can with stage… but with television there's a lot of tutting. It's very annoying. I do look back at stuff we've done in the past and think: oh God, the Twittersphere would go mad.'
At her 'audience with..' event at the Garrick Theatre on Monday, she also said TV executives were always trying to shoehorn men into her shows.
She said: 'If you don't have men in a women's show it's like, "Um, could you have a man in it?" You do get a bit of pressure.'
However, female-led TV comedies are on the rise with the likes of Motherhood, Derry Girls, Fleabag and Alma's Not Normal.
Ab Fab ran from 1992 to 2012, with a movie released in 2016 - although Saunders told her audience that a follow-up would be unlikely.
Published: 16 Jun 2021
Recent News
What do you think?