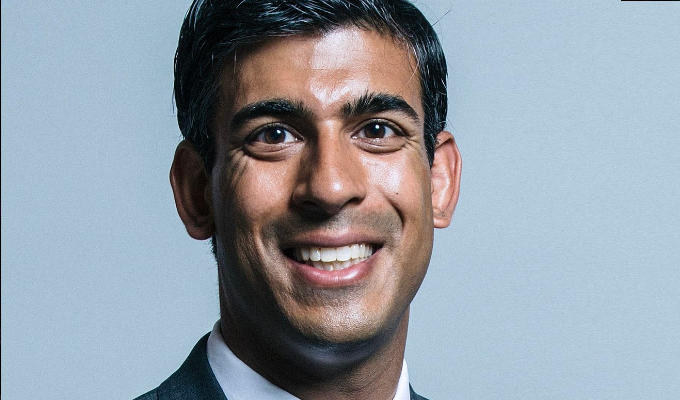 Save our festivals, Rishi!
Key players in the comedy industry have called on the government to insure the biggest festivals for 2021 so planning can get under way.
The Live Comedy Association, Edinburgh Festival Fringe Society and Brighton Komedia are among the signatories to a letter to Rishi Sunak asking to underwrite the risk of planning for this year's events.
Commercial insurers will not offer affordable policies to event organisers as the risk of them not taking place because of Covid are too high, even with vaccines coming into play.
So the live performance industry is calling for the Government to offer that safety net so that work can start on events now without the risk of heavy losses hanging over them.
They want to mimic the £500million scheme the Chancellor has offered the TV and film industry.
The letter, originated by Tory MP Julian Knight, chair of the Digital Culture Media and Sport Committee in the House of Commons, puts the maximum cost to the Treasury at £1.5billion, if all the festivals were to be forced to cancel.
If the inoculation programme is successful enough for the events to go ahead, the taxpayer would pay nothing.
Mr Knight said: 'The Government is telling us that life should be getting back to normal by the summer but unless it can provide a safety net, it will be a summer without festivals.
'The industry says that without government-backed insurance, many festivals and live music events just won't happen because organisers can't risk getting their fingers burnt for a second year.
'The committee has heard from festival organisers that this is a matter of urgency. Insurance must be the first step in unlocking the huge contribution that festivals make to our economy, protecting not only the supply chains, but the musicians who rely on them for work.
'The government already offers a level of cover to the film and television industries, now is the time to extend support to other creative industries or risk losing some of our best loved and world-renowned festivals.'
Festivals added £1.76 billion in gross value to the economy in 2019, research has found, on top of their cultural impact. Almost one in three Britons watched some of the Glastonbury coverage on TV.
Click here to read the letter in full.
Published: 7 Jan 2021
What do you think?