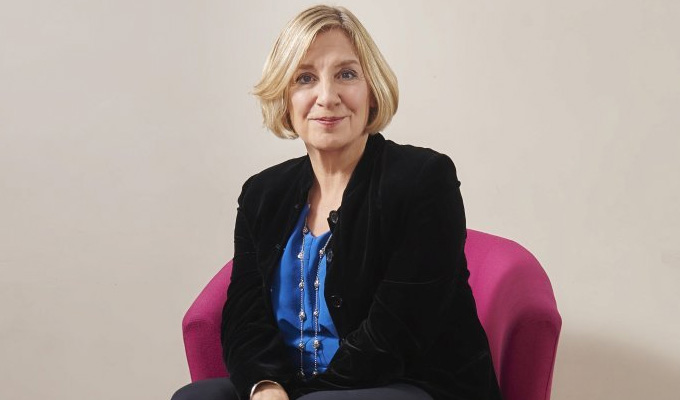 Victoria Wood left a treasure trove of unseen sketches
Victoria Wood left behind a large tranche of unfilmed sketches – and the first draft of a film script.
The comedian's biographer Jasper Rees revealed the existence of the treasure trove of 'absolutely golden' material when he appeared at the Chortle Comedy Book Festival last week.
'There are a lot of unused sketches,' he told interviewer Viv Groskop. 'When she wrote Wood and Walters [her breakthrough TV show], she wrote exactly the number of sketches which were needed, and she was very unhappy because a lot of it wasn't very good.
'So when she came to do As Seen On TV, which she did with [producer/director] Geoff Posner, he said "you need to overwrite" which she did, so there'a a lot of unused stuff sitting there.
'She did the same with the subsequent Christmas specials - all three of them – so there's a lot of unused stuff and it's all absolutely golden.'
Rees also revealed that Wood was working on the uncompleted film script at the time of her death in 2016, at the age of 62, 'which she really wanted Julie [Walters] to be the star of. She really wanted Michael Ball and Daniel Rigby to be in it as well.
'It was her latest piss-take of current trends in television. It was called Cakes On A Train, based on a joke she had come up with when she was playing I'm Sorry I Haven't A Clue and asked to come up with cosy names of films and Snakes On a Plance was just out at that time.
'Several years later she wrote this script. The train is this old steam train … there are lots of elements of the silly things happening in television. She wanted Julie to play this humourless women who becomes a breakout Sunday night TV star.
'She'd only written the first draft, but her one unfulfilled ambition was that, despite many efforts that are described it this book, she never broke into cinema. She always wanted to write and direct a feature film. This was going to be it.'
Rees wrote his substantial book - which runs to 500 pages plus a comprehensive list of sources - with the blessing of Wood's estate.
But the result is no hagiography, Rees explained. 'This biography explains that was a human being. She wasn't that person who walked on stage and presented this warm sunny charisma.
'She was that - but she was also something else. That comedy had to come from somewhere, as did that drive to want to to play to 5,500 people in the Albert Hall and to own the Albert Hall. You can't just be a smiley lovely cuddly person to be able to do that.'
• Let's Do It: The Authorised Biography Of Victoria Wood by Jasper Rees is out now. Click here to buy from bookshop.org in support of independent bookstores.
Published: 23 Nov 2020
What do you think?