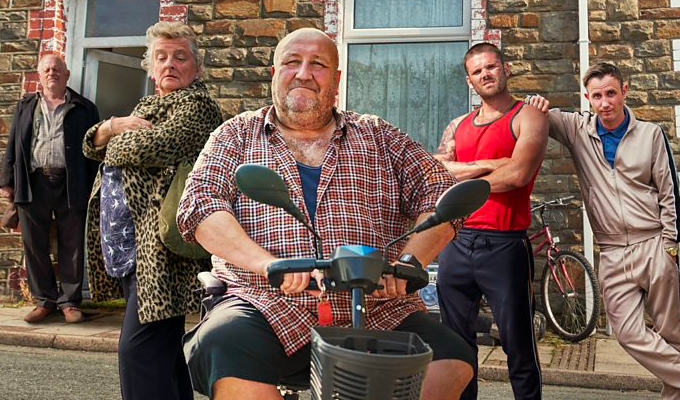 BBC Wales renews The Tuckers
BBC Wales has commissioned two more series of its sitcom The Tuckers, about an extended family of 'loveable rogues' with dubious ways of making a living.
Star and writer Steve Speirs - whose credits include Stella and Upstart Crow – broke the news on Aled Jones's BBC Radio Wales show today.
He said he was 'thrilled' at the commission and thanked 'the amazing fans who took the show to their hearts so quickly and in big numbers'.
The series, which started life as a pilot in a 2018 comedy season before launching in January this year, also stars Lynn Hunter, Robert Pugh, Kimberley Nixon and Alexandria Riley. It is still available on iPlayer.
Nick Andrews, head of commissioning for BBC Wales, added: 'Just like all fans of The Tuckers, we wanted to see more of them. It's a warm, genuinely funny comedy that's firmly rooted in Wales but has also been enjoyed extensively across the UK via iPlayer.
'Series 2 should have been filming this summer but quite rightly that couldn't happen. Commissioning two further series at the same time demonstrates BBC Wales' real commitment to backing brilliant projects developed by home-grown Welsh talent.'
Series 2 and 3 of The Tuckers, each comprising six half-hour episodes, will filmed be in summer 2021 by BBC Studios.
BBC Wales has also announced a full series commission of the sketch comedy show Age Of Outrage.
Billed as 'a comedy show for the internet age', a pilot aired in March 2020 and the sketch 'If High Street Shopping Was Like Online Shopping' went viral, attracting more than 45 million views.
The new series will be the first BBC Wales production to use innovative software as a way of navigating Covid restrictions during filming.
Commissioner Paul Forde, said: 'Some of the sketches will be done virtually. Virtual sets have been around for quite a while but can sometimes look a bit artificial. The game-changer is now the ability to make them look like the real thing using new software which is being increasingly used across the industry.
'We also see the sketch format as a great way of being able to develop new up-and-coming Welsh comedy writers and the series will feature material from newer writers alongside more established names.'
The pilot starred Miriam Isaac, Geraint Rhys Edwards, Zak Ghazi-Torbati and Mali Tudno-Jones
The series of six 20-munute episodes will be produced by the Welsh indie Small and Clever and air in the spring.
Published: 8 Nov 2020
What do you think?