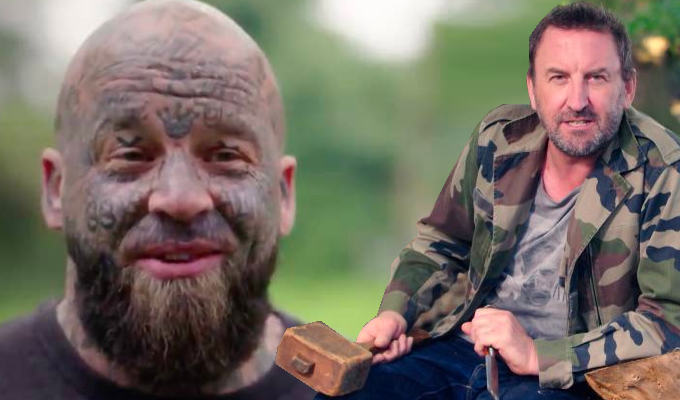 The Chop chopped
Sky has permanently dropped its Lee Mack fronted woodwork talent show after admitting a contestant's tattoos could have far-right links.
The Chop: Britain's Top Woodworker, came under fire on social media because of heavily inked Darren Lumsden's tattoos, including '88', which has been identified as 'white supremacist code for "Heil Hitler"' as H is the eighth letter of the alphabet.
He also carries the numbers 23 and 16 at the sides of his head, which the Anti-Defamation League says have been used to signify 'white power' using the same numerical code. Another reads 'homegrown'.
Sky originally said that Darren's tattoos had no 'political or ideological meaning' - stating: 'The production team carried out extensive background checks on all the woodworkers taking part in the show, that confirmed Darren has no affiliations or links to racist groups, views or comments… any use of symbols or numbers is entirely incidental and not meant to cause harm or offence.'
They said that the 88 referred to the year of his father's death. That was thrown into doubt when MailOnline tracked down a man who said he was Darren's father, and was very much alive.
Now the broadcaster accepted that his 'tattoos included symbols that could be connected to far-right ideologies and could cause offence. We sincerely apologise for that and we are sorry that our processes did not prompt further investigation at an earlier stage.
'The contestant continues to strenuously deny that he has, or ever had, far-right leanings. We are thoroughly reviewing our internal processes following the investigation.'
In the show, Mack interviewed Lumsden who told him: 'I'm known as the Woodman.'
Mack replied: I'm not gonna lie to you, Darren. If you were the bloke in my town, you wouldn't be known as the Woodman, you'd be known as the bloke with all the tattoos.'
Published: 30 Oct 2020
What do you think?