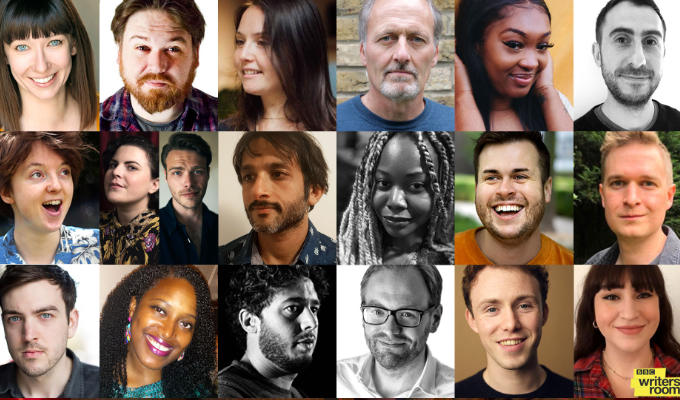 Meet the comedy writers of the future
The BBC has picked 19 aspiring comedy scribes to join its Writersroom development programme.
They were chosen after a staggering 3,590 scripts were submitted in response to an open call for ideas.
Those picked for the Comedy Room initiative will meet once a month for six months and receive targeted training and development including workshops, masterclasses, introductions and networking events, with the opportunity to ideas.
After this, they receive the support of a script editor for a further six months.
A spokesman said: 'The aim of the scheme is to encourage and develop the best in new comedy writing and to give these writers the opportunity to build strong connections with producers and help them gain BBC broadcast commissions.
Chortle can reveal that the chosen writers, who have all recently started the scheme ,are:
Clare Plested, a character comedian and improviser, originally from Watford.
Peter E Davidson, a comedian from Derry.
Alice Donnell, originally from Portsmouth.
Paul Gilmore, an actor originally from Liverpool who said: '[I] have already learnt some valuable insights…and curious to find out more"
Natasha Mwansa, a director from London.
Richard Pask, a filmmaker from Cardiff.
Paolo Chianta, is a Scot based in London.
Lizzy Mansfield, a director from Newcastle, who said: ' It's hugely exciting to be part of this year's Comedy Room, zooming alongside such talented comedy brains. I hope that one day we can be more than pixels to each other."
Charlie Dinkin, a comedian, producer and director (of shows including Olga Koch's Fight), based in London. She said: 'It's a real honour to be chosen. Looks like I can call myself a comedy writer for one more year.'
Chris Anastasi, an actor from originally from Derbyshire. He said: 'It's exciting to be working with so many talented people. I dreamed about this for years while sitting in a call centre taking abuse for not knowing exactly why you can't send dead bodies via parcel service. I guess things are a little different now.'
Chirag Upadhyay, from London.
Nathan Foad, a comedian originally from Newark-on-Trent.
Atlanta Green, a playwright from South West London, who said: 'I'm looking forward to learning all things comedy.
Thom Phipps, from Surrey
Christy White-Spunner, a comedian from London.
Tonya Joy Bolton a playwright and performer from Birmingham.
Matthew Elliott, a producer and presenter from Bath, who said: 'We're a few weeks in and it already feels exhilarating to learn such a useful range of skills with an amazing group of people. All the sessions so far have been illuminating - it's a great space to learn what I want as a writer, as well as how to craft funnier, more imaginative comedy. I can't wait to see where it goes."
Eoin McAndrew, a playwright and actor from Northern Ireland.
Molly McGuinness, a comedian from Salford.
Further details of the Comedy Room scheme can be found here.
Published: 13 Oct 2020