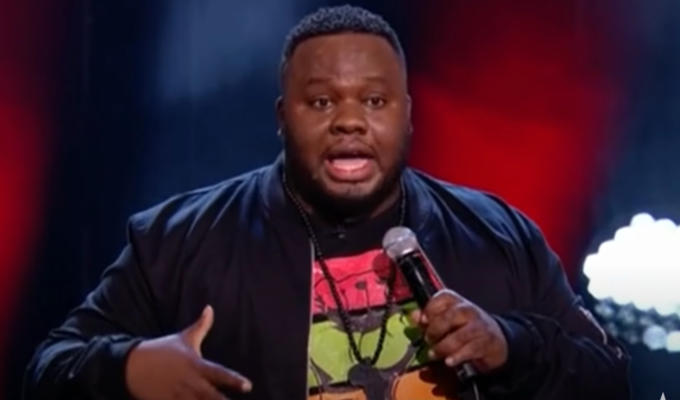 Nabil Abdulrashid makes BGT finals
Nabil Abdulrashid has made it through to the final of Britain's Got Talent thanks to a set with addressed racism.
Judges David Walliams, Alesha Dixon and Ashley Banjo picked him over unicyclist Wesley Williams at the end of last night's show.
As the result was unveiled he punched the air and told presenters Ant and Dec: 'This is not just for me man it's for a lot of people I represent so thank you.'
During his set he spoke about being mistaken for other black people such as Big Narstie, and mocked 'angry far right guys' who get upset about him joking about his background.
Dixon had given him her golden buzzer in the earlier round, and last night said: 'I really enjoyed it, the reason I picked you as my golden buzzer is you're quite edgy, you're different, and you're that guy.
'It's okay to feel a bit uncomfortable with comedy, I think that's what comedy is about and I think you're very brave to take on the subject of racism, very poignant right now.'
Walliams said: ''It was a brilliant set, Britain's Got Talent can be bigger and better if we can have really fantastic, edgy comedy on this show.'
Banjo - whose dance troupe Diversity previously elicited complaints to Ofcom for a routine inspired by Black Lives Matter - praised 35-year-old Abdulrashid for a 'legendary' set, adding: 'I did nothing but laugh.
'A lot of comedians have found this really hard with a virtual audience but I didn't even think about that for a minute with you.
'You should be in the final and for me you should be up to win this competition man, very well done.'
Comic juggler Steve Royle previously made it through to the final, which will air on ITV next Saturday night. :
Here is Abdulrashid's performance on the show:
;
Published: 4 Oct 2020
Recent News
What do you think?