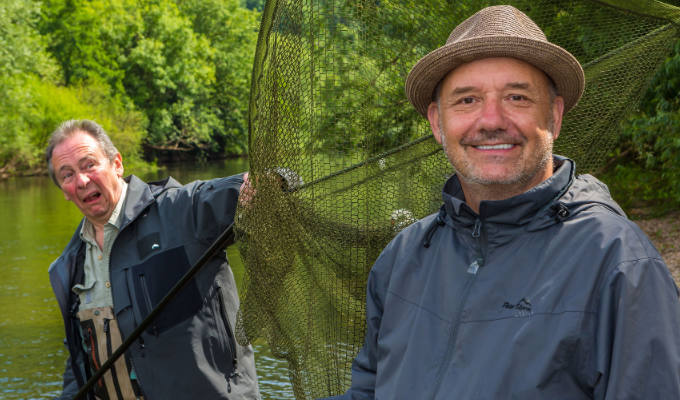 Mortimer & Whitehouse net another series of Gone Fishing
Mortimer & Whitehouse: Gone Fishing is to return for a fourth series
Bob Mortimer and Paul Whitehouse are to head back to the British countryside to make make six more 30-minute episodes of the gentle show for BBC Two, the BBC has confirmed
The third series, which finished on Sunday, averaged 1.8 million viewers across its first five episodes, according to consolidated figures that include catch-up viewing.
Viewers took to Twitter to express their sorrow that the series finished following the episode, in which the duo fished for chub on the Wye river in Herefordshire.
Speaking about the show's return, Whitehouse joked: 'The fish of the UK needn't worry too much as Bob and I return for another series of Gone Fishing. I love Bob and he needs me more than ever so we're back on the river bank for more high jinks and another series basking in the timeless wonder of the glorious British countryside."
Mortimer added: 'I love doing this show and am over the moon to get the chance to go fishing with Paul again. I am already working on heart healthy recipes to cook and new ways to irritate him."
The show began in 2018 after Mortimer underwent triple heart bypass surgery - and Whitehouse, who had experienced his own heart problems, invited his old friend to join him on a fishing trip as a way of relaxing and bonding.
Executive producer Lisa Clark said: 'We're all delighted with the positive reaction from so many people, particularly from those looking for a little light relief and escapism in these tricky times we're all facing. The series is a joy to make and I think that comes across in each episode.'
Mortimer & Whitehouse: Gone Fishing production credits
Made by: Owl Power
Commissioned by: Patrick Holland, controller of BBC Two, and Catherine Catton, head of commissioning for popular factual and factual entertainment programming
Commissioning editor: Max Gogarty
Executive producer: Lisa Clark
Directed by: Rob Gill
Published: 29 Sep 2020
What do you think?