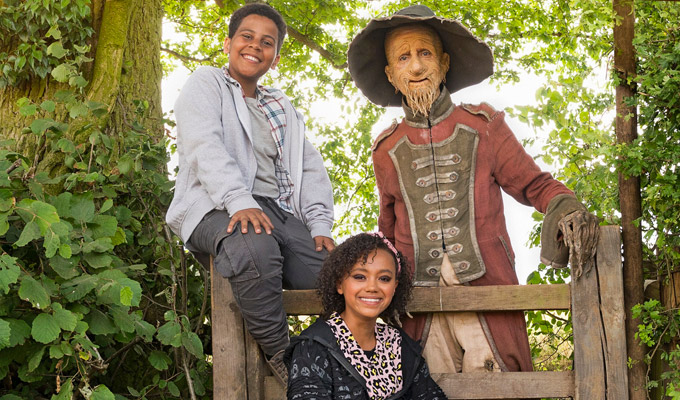 Worzel Gummidge to return
Mackenzie Crook is to return for another Worzel Gummidge film.
The comic has again written the script for the one-hour titled Saucy Nancy, and will also direct it.
Shirley Henderson, who played Moaning Myrtle in the Harry Potter films will play the title role, a ship's figurehead yearning for a return to the sea. The character was played by Barbara Windsor in the Jon Pertwee era series in 1980.
Acting legend Vanessa Redgrave also joins the cast of the new film – to be screened on BBC One later this year – as Peg, a dressmaker's dummy turned scarecrow.
The new commission follows two specials based on Barbara Euphan Todd's literary creations which aired last Christmas.
Crook, who previously created Detectorists, said: 'I'm excited and grateful to be making a new episode of Worzel Gummidge after a difficult year for everyone. We're heading out of Scatterbrook for this story on a day trip to the seaside, some fresh air and some wide open space.'
Shane Allen, the BBC's controller of comedy commissioning, added: 'What is it with Mackenzie and shows set in a field? Following on from last year's bucolic eco-fables we find Worzel in mischievous form dispensing his sun-baked wit and wisdom in another heartwarming tale.
'This cements BBC One's unique reputation as the home of UK family comedy drama.'
The cast also includes India Brown as Susan and Thierry Wickens as John.
Worzel Gummidge: Saucy Nancy production credits
Written and directed by: Mackenzie Crook
Made by: Leopard Pictures, Treasure Trove Productions and Lola Entertainment
Executive producers: Kristian Smith for Leopard Pictures, Lisa Thomas for Lola Entertainment, Mackenzie Crook for Treasure Trove Productions and rights holder Patrick D. Pidgeon for Pidgeon Entertainment, Inc
Produced by: Gill Isles
Commissioning editor: Ben Caudell
Published: 8 Sep 2020
What do you think?