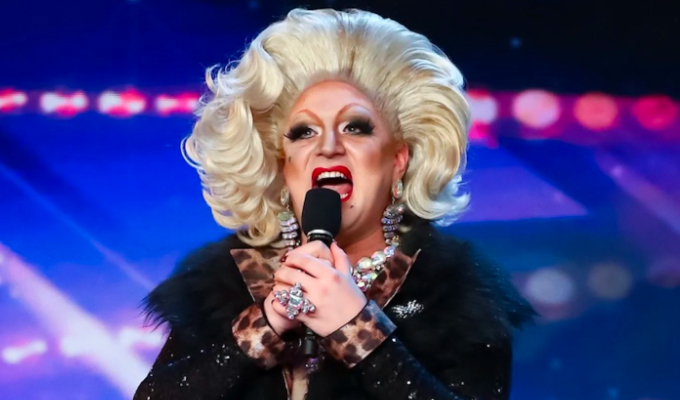 Comedians make the 2020 Britain's Got Talent semi-finals
Comedians Myra Dubois, Steve Royle, Nabil Abdulrashid and Allen Finnegan have made it through to the live semi-finals of this year's Britain's Got Talent.
The talent show returned to ITV last night to confirm which 40 acts will perform over the next eight weeks to win spots in the final.
Abdulrashid, 34, had already secured his place having received Alesha Dixon's golden buzzer during the first round, with the judge saying: 'That was so good on so many levels.'
Last night, drag star Dubois, Liverpudlian Baptist minister and stand-up Finnegan and circuit veteran Royle secured their places, too.
Juggler Royle tweeted: 'Thank you for all the lovely messages regarding @BGT apologies if I don't reply to you all, true to say my phone has gone quite crazy!! Rest assured I appreciate your support and of course, any future votes! See you on the box next Saturday night.'
Improvisation group The Noise Next Door said they had taken themselves out of the competition because the semis were being filmed without an aideonce.
In a statement they said: 'While this is entirely the right decision in terms of health and safety, we didn't feel these were the right conditions for us as we rely so heavily on audience interaction to improvise and do what we do best.
'With this in mind, we decided to take ourselves out of the runninh this year. We wish all of the semi-finalists all the luck in the world.
The Britain's Got Talent semi-finals start on ITV at 8pm on Saturday.
Published: 31 Aug 2020
What do you think?