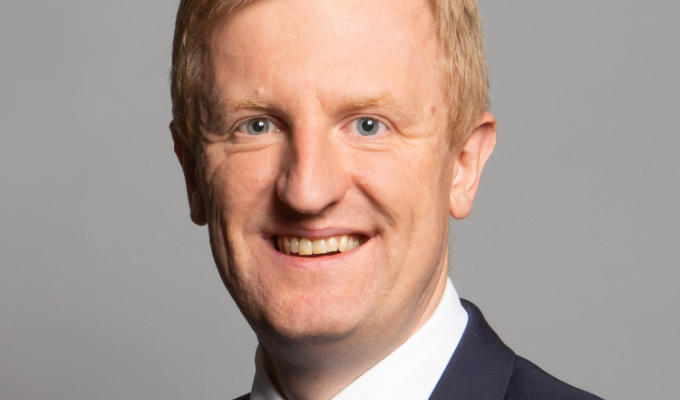 Venues told: No normal reopening until November, at least
Hopes that the live comedy scene could make a relatively brisk return to normality have been dashed by Culture Secretary Oliver Dowden.
The Minister this morning said that rules about social distancing in venues would not even be reconsidered until November – and even then there was no guarantee that they would be relaxed.
The news – which comes on the day the first indoor comedy gig in four months is held as part of a tentative pilot scheme – will be a blow to comedy clubs and theatres hoping to return to something like full capacity in time for the normally lucrative Christmas season.
Yesterday, details of how organisations could apply for a slice of the previously announced £1.57billion emergency arts bailout were announced - which will be open to the comedy sector.
Appearing on Radio 4's Today programme to speak about the package, Dowden spoke about the timetable for reopening.
He said: 'We are trying to reopen as rapidly as we can, consistent with public health and given the global risks around the resurgence of the virus.
'So from the beginning of August we'll be able to have indoor performances with social distancing and if we can move to non-social distancing in performances we will.'
But pushed on giving a date for reopening, Dowden said: 'The Prime Minister said a couple a weeks ago when we get to November we will look again at social distancing and where we are with the spread of the virus.
'We can't give a stronger commitment than that because, as we are seeing, the virus is rising in other countries around the world and the risk remains heightened, It is not the case now that we can move to ease social distancing
'We are having to work hard to bring this virus under control. As soon as we can give that assurance we will give that to people. But we are just not in that place at the moment.
'Given this virus is very far from being defeated, I don't want to give people false hope.
'We have already made progress with rehearsals, we will have indoor performances with social distancing from the beginning of August. We've got outdoor performances happening already. We will be conducting pilots for indoor performances but we can only give the guidance to resume performances without social distancing when it's safe to do so, and the Prime Minister has indicated that would be November at the earliest.'
Manchester's Frog and Bucket tonight becomes the first comedy club to pilot opening under a Department for Culture, Media and Sport scheme, followed by Just The Tonic in Nottingham tomorrow.
Indoor performances will be allowed in England from Saturday in adherence to guidelines. However the vastly reduced audience numbers required to successfully maintain social distancing puts the viability of many venues in doubt.
A gig used to trial safety measures for the return of live music last night was not deemed a success. Folk rocker Frank Turner played to a socially-distanced audience of 200 at the Clapham Grand in London, which normally has a capacity of 1,250.
'It can't be the future for live music, it can't be the future for venues,' venue manager Ally Wolf told the BBC, noting that the show did not make enough money to cover the venue's operating costs, let alone a performer's fee. '[This is] not a financial model that the industry can remotely rely upon to get to be sustainable.'
On the Today programme, Dowden confirmed that organisations will be able to apply for the help under the £1.57billion bailout from the summer adding that institutions in most dire need would be fast-tracked.
Applications for Cultural Recovery Grants can be made here from August 10, with round one closing on August 21.
The eligibility list includes comedy and variety/cabaret as sub-genres of theatre, and the rules state: 'If you are an organisation whose primary role is to create, present or support one (or more) of these genres or sub genres, then you are eligible to apply.'
Comedy venues are specifically mentioned as being eligible for emergency help in accompanying guidance notes on the Arts Council website.
Published: 29 Jul 2020
Recent News
What do you think?