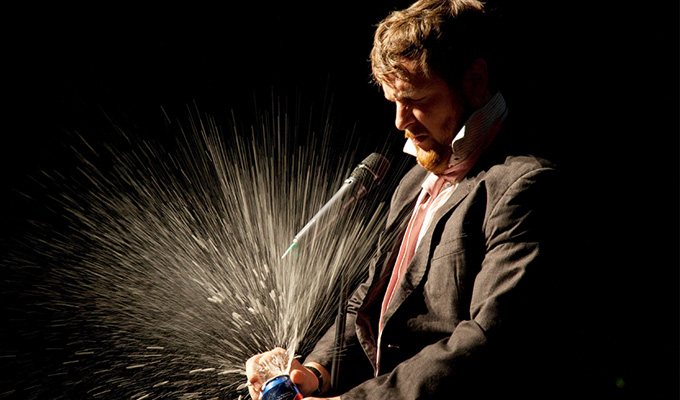 Tim Key writes a love letter to pubs
Tim Key has written a poem to celebrate the reopening of the pubs after lockdown.
And his words will be displayed on the pavement outside ten pubs in London tomorrow, with the lines spaced a metre apart to help social distancing in the queues.
The comic was commissioned to write his 'love letter' by Beavertown Brewery.
Founder Logan Plant said:'The last few months have been incredibly difficult for the pubs and now that they can reopen we want to show them the love they deserve'
Key added: 'The thought of the ice-cold pint, infinitesimal bubbles dancing off its surface, condensation glistening on the glass gave me all the inspiration I needed to write a tightly structured, dreamy poem consisting of ten sentences roughly equal in length.'
Here is the poem:
I'm stood in the queue for the pub, my whole frame tingling with anticipation.
My tongue's dangling from my mouth, slapping happily against my chest.
I shut my eyes, dream of what awaits me inside.
I imagine the bonhomie, the kegs, the big, bare-chested brutes pumping beer into my flagon.
I imagine a paradise of smiles, the air thick with smoky bacon crisps and optimism.
I imagine the intoxicating smells: beer, wine, hand gel, freshly cut grass, fireworks and lavender.
I wait in the sunshine, my mouth watering uncontrollably now, my T-shirt drenched in hope.
I shuffle forward and swallow.
I dream of the beer again, flying through my pipes like warm honey.
My tongue makes a burst for the bar, I charge after it, my heart galloping with excitement.
It will be placed outside The Clissold Park Tavern, Stoke Newington; Royal Inn on the Park, Hackney. ; Faltering Fullback,Finsbury Park; The Rose SE1; The Pineapple, Kentish Town; Three Compasses, Dalston; Howl at the Moon, Hoxton; Neighbour, Kentish Town; The Old Ship, Hammesmith; and The Beavertown Taproom, Tottenham Hale.
Published: 3 Jul 2020
Recent News
What do you think?