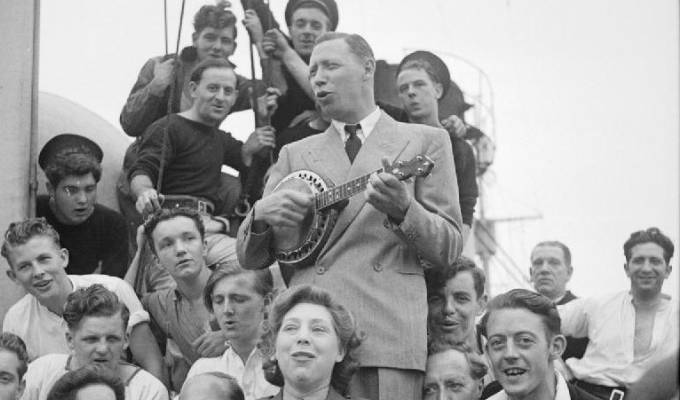 When George Formby told off his writers for being too rude
George Formby may be known for his risqué double entendres – but he once had to warn his writers about for supplying 'too much sex' stuff.
A major auction of the comedian's memorabilia on Thursday includes a letter he wrote to Harry Gifford and Fred E. Cliffe – who had written some of his biggest hits of the 1930s and 1940s, including When I'm Cleaning Windows, It's Turned Out Nice Again and the innuendo-ridden A Little Stick Of Blackpool Rock.
But in correspondence to the pair dated July 12, 1936, Formby wrote: 'Dear lads, Very many thanks for your song but I am very sorry to have to send it back to you as it is really too blue, you are getting too much on the sex stuff, try and clean it up a bit.'
The letter is going under the hammer tomorrow alongside a couple of his banko ukuleles, a life-size model of the star, andd unseen family photos, personal scrapbook.
Auctioneers Hansons say it is one of the most important collections of Formby memorabilia to come up for auction since the contents of his Lancashire home, Beryldene, were sold after he died in 1961.
Jim Spencer, associate director at Hansons, said: "It's a hugely important private collection which could sell for in excess of £30,000. We're proud to be selling this important collection and hope to honour George Formby's legacy.'
In his heyday, Formby was the UK's highest-paid entertainer, and Hansons expects strong interest in two banjo ukulele. each with a guide price of £10,000 to £15,000.
Last year a pair of instruments he owned fetched a total of £24,000 at the same auction house, in in Etwall, Derbyshire.
Other memorabilia includes a novelty table lamp modelled as Formby leaning on a lamp post, given to George by Noel Gay, who wrote the songs it refers to, and has an estimate of £4,000 to £6,000.
A life-size model of the star, (estimate £200 to £300), Formby's Book of Common Prayer in which he wrote ''Yours in faith, George Formby, 1941' and his personal scrapbook recording his 1947 tour of Australia are also going under the hammer. The scrapbook is full of with personal photographs, with an estimate of £1,000-£1,500. Another album features unpublished family photos showing George and wife Beryl on cruise holidays
Mr Spencer added: 'Hansons has a good track record with Formby finds. In 2017, we sold a George Formby banjolele for £28,500.
'When I collected the objects, I had no space left for the life-size figure of George, so the vendor encouraged me to strap him into the passenger seat. It was the only option. So, I had a four-hour drive back home with other motorists thinking I had a pretend twin brother keeping me company.'
To view the catalogue, browse and bid click here
Published: 19 May 2020
Recent News
What do you think?