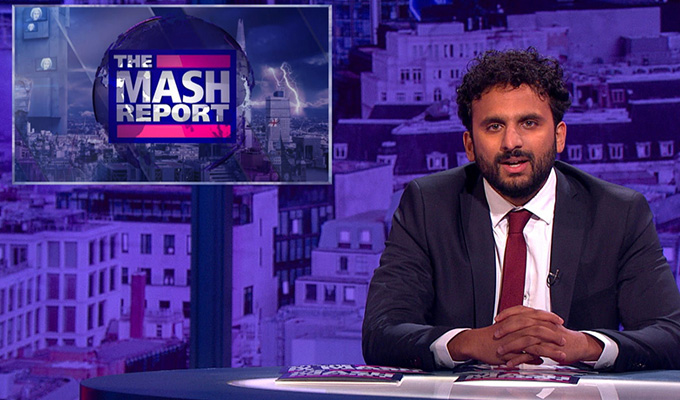 The Mash Report to be filmed in its stars' homes
The next series of BBC Two's Mash Report will be broadcast from the homes of its presenters.
Nish Kumar and correspondents including Rachel Parris, Geoff Norcott, Ellie Taylor, Steve N Allen, Catherine Bohart, Desiree Burch, and Ahir Shah will be delivering their topical comedy by Skype during the coronavirus lockdown.
The show will be returning on April 3, and the BBC says the show is going ahead because 'people need laughter and topical insight more than ever', adding: 'If you don't like jokes and analysis, you will at least get to see inside the houses of some very minor celebrities.'
Have I Got News For You also returns on the same day, but it is not clear if the teams will be spaced out more in the studio or sitting at home.
Steph McGovern will be hosting the first show with guests Miles Jupp and Helen Lewis joining regulars Paul Merton and Ian Hislop.
Producers Hat Trick joke: 'Producers quip: "The regulars will be sitting in their usual seats, come what may (although we can't quite be sure where those seats will be). Paul will be using the wonders of modern technology and Ian Hislop will be using semaphore.'
And Dara O Briain will be presenting a version of his Stargazing Live show from his back garden
The news comes as the BBC announces changes to its schedules schedules to reflect self-isolation rules and the loss of some of its biggest events, such as Eurovision, Glastonbury, the Olympics, the Euros and other live sports.
A new entertainment series, Peter Crouch: Save Our Summer - which feaures Alex Horne and The Horne Section as its house band – promises, in part, replace 'a little bit of all the big summer events that have been taken away'.
On Saturday nights, BBC One will be repeating some classic British comedy series, form April 4 kicking off with Gavin and Stacey and Outnumbered.
And on the day he should have been presenting Eurovision, May 16, Graham Norton will instead introduce classic performances from the song contest alongside what would have been on stage in Rotterdam.
BBC director-general Tony Hall says: 'The BBC is determined to do all it can to raise a smile and keep the country entertained during these testing times. We have lots of great shows already recorded, but we have also found ways to keep many other shows going so that the familiar faces people love will still be in their living rooms in the weeks and months ahead. I think that is incredibly important.
'The BBC will also deliver a range of virtual events to replace some of those that have now had to be cancelled. We can all still have a Eurovision moment, even if it is different from the past. Our pledge is offer the best escapism, fun and distraction we can, alongside the news and information everyone needs.'
Published: 24 Mar 2020
What do you think?