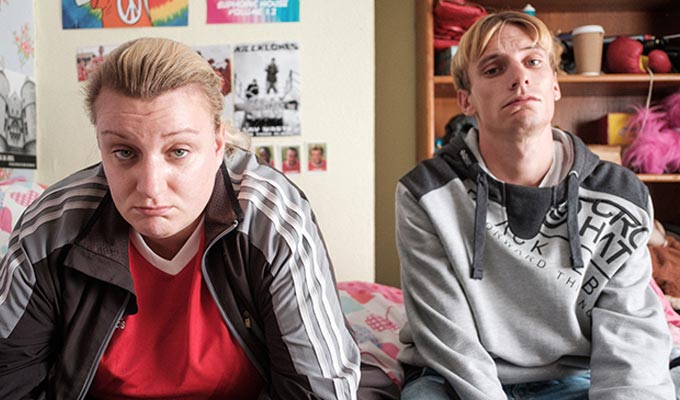 This Country goes Stateside
This Country's US remake has been confirmed, with the Fox Network ordering a pilot.
Bridesmaids director Paul Feig is helming the new version, with Jenny Bicks, who wrote the The Big C and The Greatest Showman, adapting Daisy May and Charlie Cooper's BBC Three scripts for an American audience.
Instead of Kerry and Kurtan Mucklowe from the Cotswolds, the small town cousins in the US comedy are Kelly and Shrub Mallet.
A documentary crew will follow the pair as they pursue their dreams, confront challenges and fight each other for frozen pizza, trade website Deadline reports.
A co-production between Lionsgate, Fox Entertainment, BBC Studios and Feigco Entertainment, the pilot is being produced by Sex and the City writer Jenny Bicks, with the Coopers and Feig among those executive producing.
The Coopers involvement ought to equate to a hefty pay packet if the adaptation of their Bafta-winning mockumentary becomes a hit, as The Office previously did.
However, Daisy May has already admitted that she struggles to manage her finances, having been caught out by the size of her recent tax bill.
'I'm so bad with money, I had to hand all my cards over to my husband' she lamented in an interview with Stylist magazine this week. 'It doesn't comprehend in my brain. We're catching up on the tax but the student loan's bloody coming out now. If I didn't have him I'd be absolutely fucked.'
News of the pilot order comes as the BBC prepares to air the third and final season of the original This Country on February 17.
Fox has already ordered a series of its Miranda adaptation, Carla, based on Miranda Hart's hit sitcom, starring Mayim Bialik and executive produced by her Big Bang Theory colleague Jim Parsons.
In November it was reported that BBC One comedy Ghosts and Channel 4's Home might also be getting American remakes.
All three are part of a deal that US studio Lionsgate struck with BBC Studios to develop its shows in the States.
By Jay Richardson
Published: 30 Jan 2020
What do you think?