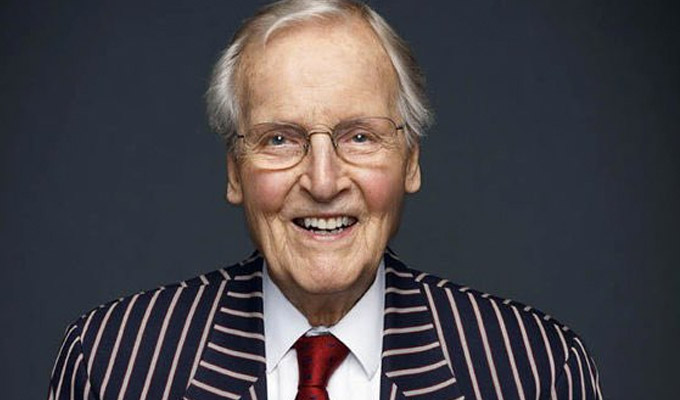 Nicholas Parsons dies at 96
Nicholas Parsons, who hosted Radio 4's Just A Minute since its inception in 1967, has died aged 96 after a short illness.
A statement issued by his agent Jean Diamond, on behalf of his family, said: 'Nicholas passed away in the early hours of the 28th of January after a short illness at the age of 96.
'He was with his beloved family who will miss him enormously and who wish to thank the wonderful staff at the Stoke Mandeville Hospital.'
BBC Director-General Tony Hall was among those paying tribute.
He said: 'Very few people have done so much to entertain audiences over the decades, and no one deserves to be called a broadcasting legend more than Nicholas Parsons. His charm, inventive intellect and ability to create laughs were unsurpassed. Our thoughts are with his family and all who knew him.'
Mohit Bakaya, controller of BBC Radio 4, added: 'Nicholas Parsons was one of the greats, a first class broadcaster and an icon in the world of British comedy.
'Nicholas always brought his sharp wit, brilliant poise and warmth to everything he did - but particularly as host of Just A Minute where his excellence shone in each episode without hesitation, deviation or repetition.
'He was that rare beast - a presenter whose appeal spread right across the generations - and he was a unique member of the Radio 4 family. He will be greatly missed by us all, as well as the many, many listeners who he entertained so brilliantly."
Julia McKenzie, creative director at BBC Studios Audio, which produces Just a Minute, said: 'Nicholas was such a smart and passionate man who cared deeply about his radio show and Radio 4 and its devoted listeners. He was utterly charming and faultlessly professional.
'He was funny and kind in person and wonderful company. I can't really believe he is gone today, he seemed indestructible. His legacy will live on with over 50 years of laughter-filled shows and the lasting friendships he made through his extraordinary career in show business.
'My thoughts are very much with Annie, his beloved wife and constant support and companion who attended every recording, and the rest of his family. Nicholas, you dear man, what a full life you lived - you really did bring much wit and joy to us all and we thank you for that - we miss you.'
Concerns were first raised about Parsons' health in 2018 when he missed his first recording of the Radio 4 panel show in 50 years because of flu.
And last year he had to miss another taping at the Edinburgh Fringe after suffering a bad back.
Parsons was born in 1923, the son of a GP in Grantham, Lincolnshire After his education at St Paul's School, London – where he excelled in Latin, Greek and rugby – Parsons started an apprenticeship as an engineer to please his family and briefly worked in the Clydeside shipyards
While studying engineering at the University of Glasgow, he started doing impersonations, which landed him his first professional engagement on the radio, the joined an amateur concert party, before going into repertory as an actor at Bromley in Kent.
He moved to the legendary London cabaret circuit in the Fifties, where he was resident comedian at the famous Windmill Theatre for six months; and in 1956 teamed up with comedian Arthur Haynes in 1956. Parsons played his straight man on TV for a decade until Haynes's sudden death in 1966.
He then worked with Benny Hill, being a regular on his show from 1969 to 1974, as well as working solo - most famously hosting the Anglia Television game show Sale of the Century, broadcast weekly from 1971 to 1983.
Other notable TV appearances include playing himself in the 1988 Comic Strip Presents film Mr Jolly Lives Next Door; playing a vicar in Doctor Who in 1989; and guest hosting Have I Got News for You in 2005.
Parsons made his film debut in 1947, and appeared in many British comedy films in the Fifties and Sixties. He returned to the West End stage in 1967 to star in Boeing-Boeing, and has more recently taken the role of the narrator in The Rocky Horror Show.
Parsons will also be forever linked with the Radio 4 panel game Just a Minute, which he hosted since its first broadcast on December 22, 1967.
In 1976, he was asked to stand as Liberal Party candidate for Yeovil. He refused – allowing an unknown newcomer called Paddy Ashdown to fight, and win, the seat
Between 1988 and 1991 Parsons was Rector of the University of St Andrews, and was given an honorary Doctor of Laws degree for his work there. And in 2005 he became honorary chairman of the International Quizzing Association.
He was also active in the Grand Order of Water Rats charity, and was president of the Lord's Taverners charity. He also worked for the NSPCC, the Variety Club and Childline. In 2004, he was awarded OBE.
Until recently he continues to tour a one-man show, and in 2000 started an annual stage chat show at the Edinburgh Fringe, which he performed until last year.
• This is a developing story tat is being frequently updated
Published: 28 Jan 2020
What do you think?