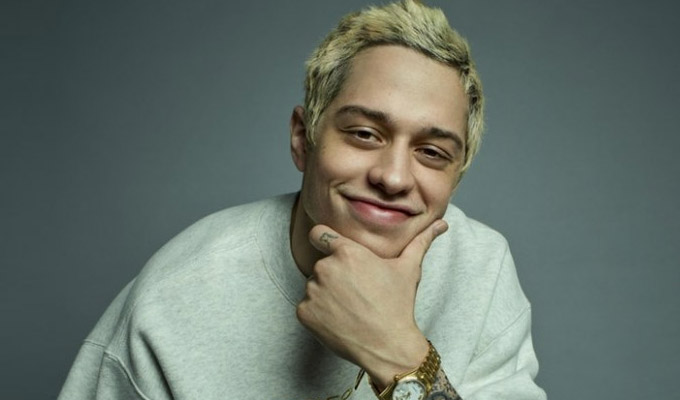 Comic demands fans sign a $1m secrecy contract to see his shows
Saturday Night Live comedian Pete Davidson is demanding fans sign a contract not to leak details of his stand-up set – on pain of a $1million penalty.
The 26-year-old comic is insisting that anyone attending his live shows sign a controversial non-disclosure agreement.
The legal document prohibits people from even talking about his show – forever.
It says that anyone watching his act 'shall not give any interview, offer any opinions or critique' about it, including 'jokes, references [and] characters'.
The draconian contract specifically mentions blogs, Twitter, Facebook, Instagram, YouTube - but says it applies to any other form of media that exists, or has yet to be invented.
Fans who sign the secrecy document cannot even confirm or deny what's in the show if someone else asks about it.
It states: 'The individual agrees that in the event of breach of this agreement, individual shall pay company, upon demand, as liquidated damage, the sum of one million dollars, plus any actual out-of-pocket expense, as well as any attorney fees expended in enforcing this agreement."
'Any patron who is unable or unwilling to sign the agreement will not be allowed to enter and will be giving [sic] a full refund.'
The document was sent to those who brought tickets for the comedian's November 27 show at the Sydney Goldstein Theater in San Francisco, which also deployed Yondr pouches to lock away mobile phones.
Attendee Stacy Young, who shared the document on social media, said she would have been happy to seal up her phone, but said this was 'over-the top'.
Other fans revealed they were asked to sign a similar agreement when Davidson performed at the Varsity Theater in Minneapolis earlier in the month.
The non-disclosure agreement - or NDA – did not go down well on social media. Comments included: 'The NDA #PeteDavidson is making fans sign before his shows is, quite frankly, stupid and overbearing. Dude, you're not even funny. You're gonna get criticized no matter how you try to stifle it'; 'How insecure are you about your set if you are asking people to sign an NDA?' and 'If pete davidson is so fragile and erratic that he needs people to sign an nda before his shows then maybe he needs to stop doing stand-up.'
Last month Davidson complained about the 'cancel culture' engulfing comedians airing controversial views, saying: 'You can't talk about anything. You can't. The second you open your mouth and have an opinion, you lose money today. And I don't think that's a safe place to live in.
'When I'm doing stand-up, nothing I ever say is coming from a hateful place… Anything I've ever said on stage or made a joke about, I don't regret it.
'I mean, some jokes I'm like, "Welp, that joke sucked." You know? But I'm never like, "Aw fuck!"
'Cause there are times I try things that I think are ridiculous and they work. And that's what sucks about political correctness in comedy, I think that you need freedom.'
NDAs have recently come under scrutiny after corporations used them as part of payoff deals to silence those who complained about sexual harassment or assault from executives.
Published: 1 Dec 2019
Recent News
What do you think?