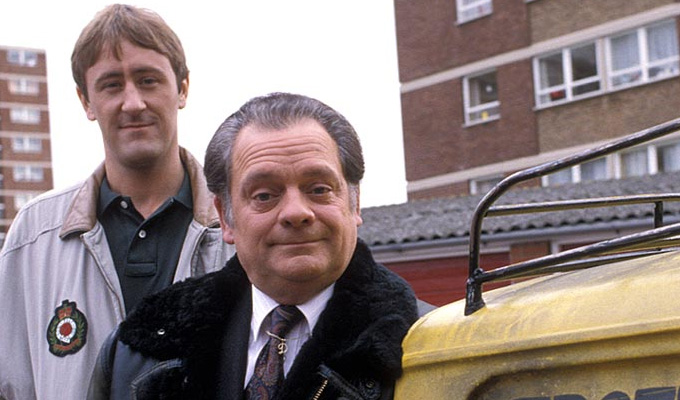 Pot pourri, Rodney!
Only Fools And Horses fans are up in arms at being asked to fork out more than £250 to have their photograph taken with David Jason.
The sitcom's appreciation society is staging a convention next year, at which the 79-year-old star will make what is expected to be his last ever appearance in character as Del Boy.
Fans can have their picture taken with him in the Trotters flat – but at a cost of £255… or £375 if you want Sir David to sign something. Tickets, which go on sale tomorrow, are also non-transferrable and non-refundable.
Proceeds go to Diabetes UK, but that has not quelled a storm of protest over the sky-high costs.
On Twitter, Andy Burrows wrote: 'What an complete and utter joke these prices are. Yes raise money for charity but normal working class people can not afford this and will miss out on meeting a true legend.'
Jody Brown added: 'I know it's for charity! But £375 I am gutted... it's a shame that us normal fans won't get a chance to meet our hero. All that wait for nothing!!! All about the rich again!'
Jordan Stevens said: 'Horrendous pricing. The only chance we'll ever get to meet a true legend and your regular working class fan can't go! 2 people, accompanied with hotel and travel prices, not to mention extras bought on the day... You're talking a grand.'
And one devout viewer called Jo hit the nail on the head by posting: 'This time next year Rodders, were gonna be... able to afford a ticket to this.'
In response to the protests, organisers wroteon Facebook: 'We understand there will be disappointed fans who cannot attend for many reasons but we feel we need to stress that numbers are extremely limited to be more manageable for Sir David on the day. Subsequently the cost is appreciably more than if we were letting thousands through the door.'
The convention, which will also feature numerous props from the show along with other actors Sir David has worked with over the years, takes place on February 29 and March 1, but the venue has not yet been revealed.
To promote the event, Sir David said: 'I am looking forward to the opportunity of meeting so many fans of Only Fools and Horses. It should be cushty.'
A £55 ticket is also available allowing entry to the convention and a public talk from the star, but no personal one-on-one time.
Published: 23 Nov 2019
What do you think?