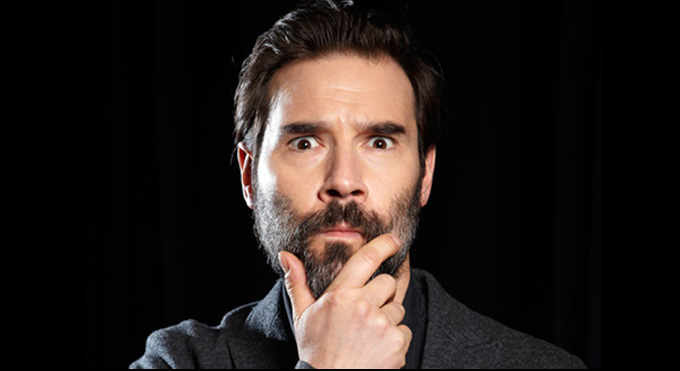 Adam Buxton to publish his memoirs
Adam Buxton is writing a 'rambling, very funny and at times poignant memoir'.
The volume, entitled Ramble Book, will be accompanied by a 23-date UK tour.
To be published in May by HarperCollins, the book will cover his burgeoning love of pop culture as a teenager, his feelings about childhood and parenthood, coming to terms with the death of his father and more.
Buxton says: 'I don't know why people think writing a book is hard. I have found it very easy, enjoyable and in no way traumatic. That's a literary device known as irony, which I use sparingly in the book.
'The truth is it's been weird rummaging around in the bins of my adolescence, my odd, marginal career and my middle age but, as well as lacerating myself on a few sharp objects that should have been more carefully disposed of, I've found many enjoyable nuggets that I hope people will find tasty.
'Just to be clear, I was using another literary device there (metaphor that time, I think), the book is not about finding and eating fast food that has been thrown in the bin. That's my next book.'
Chortle first reported that Buxton was writing the book – then provisionally titled 1st Class Bastard – back in February, when he read extracts at a charity benefit.
Director Jack Fogg, publishing director of HarperCollins imprint Mudlark negotiated the deal with Buxton's agent, Caroline Chignell at PBJ Management.
Fogg said: 'Working with Adam on his book has been a real career highlight. He is, as one might expect, incredibly gracious, full of ideas and fantastically good company.
'And his book shares many of the qualities that make him such a well-loved broadcaster and comedian: warmth, humour, intelligence, self-deprecation (sometimes too much!) and spotless timing, it is the work of someone who doesn't shy away from an unflattering truth, or a great gag.
'I can't wait for Adam to see the response from readers, which I know will be incredibly positive.'
The book is available to order here. Tickets for most tour dates went on sale at 10am today. Here is the schedule.
Published: 18 Nov 2019
What do you think?