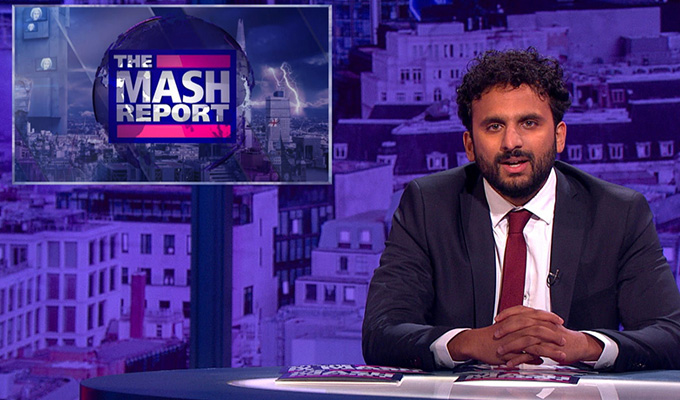 Commons footage CAN now be used in satire
The 30-year ban on using footage from Parliament in comedy shows has quietly been relaxed.
Since cameras were first allowed into the Commons in 1989, broadcasters have been forbidden from using clips 'in any light entertainment programme or in a programme of political satire'.
The rule has long infuriated comedy producers, and led to accusations of hypocrisy. For example, clips could be used in a jokey package on a political magazine show, but not on the UK broadcast of John Oliver's Last Week Tonight, even if underpinned by journalistic rigour.
However changes to the law made in 2014 included a provision for using copyrighted material for 'caricature, parody or pastiche' under fair dealing rules.
At the time, no one considered this could have implications for the footage from Parliament, and it was still excluded from satirical programmes.
However, the BBC launched a review of its editorial guidelines last year – and apparently realised the new loophole.
A Corporation spokesman told the Times this week: 'Changes in legislation… means there are some instances when the use of parliamentary footage may be permitted in satire and drama programmes.'
The Commons and the Lords have both said they are in consultation with the BBC about a formal change to the guidelines.
And if the BBC changes tack, other broadcasters are sure to follow.
It's believed the first satirical use of Commons footage came, without fanfare, in The Mash Report in September, which used a clip showing Labour MP atrying to stop Speaker John Brecow leaving the chamber during the prorogation of Parliament.
Last year, footage of Oliver savaging Theresa May over her Brexit deal was banned in the UK because of the rules.
In the US, viewers saw Oliver playing footage of MPs laughing openly at her suggestion Britain would be making a smooth withdrawal from the EU. But he had to record different footage for the Sky Atlantic broadcast in the UK.
Speaking to camera he explained: 'In that piece there's… some Parliamentary footage. And as we've discussed before on this show, it's against the law for a comedy programme to do that in the UK which is – and this is true – fucking stupid.
'Obviously that puts us in a little bit of a pickle, as this show now has a six-minute gap we need to fill.
'You may remember last time we ran into this exact same problem we replaced the segment with Gilbert Gotfried reading three-star Yelp reviews from restaurants in Boise, Idaho. Don't worry, I'm not going to do that to you again.'
Instead, Oliver got Gotfried to read extracts from the 585-page Provisional Withdrawal Agreement.
In 2011 an episode of the Daily Show was similarly banned from the UK. At the time it was pointed out that a news report about the ban could probably use the footage that the satirical show couldn't.
That same year Charlie Brooker was banned from using footage of Rupert Murdoch being hit with a custard pie in 2011 Wipe round-up because it happened during a select committee heading bound by the same rules. Instead, the comedian was forced to recruit Made in Chelsea stars to re-enact the incident.
His sister-in-law, Ealing Labour MP Rupa Huq, later raised matter in the Commons, calling for a change in the rules. But Chris Grayling, who was leader of the House at the time, said he did not want to make a change to 'ensure the coverage of this House's debates is used in an appropriate way'.
Speaking at a conference about comedy in Brunel University this week, Justin Fisher, a professor of political science, said he was in favour of allowing footage to be used in satirical programmes. But he cautioned: 'Will it trivialise Parliament? Almost certainly.'
Published: 8 Nov 2019
What do you think?