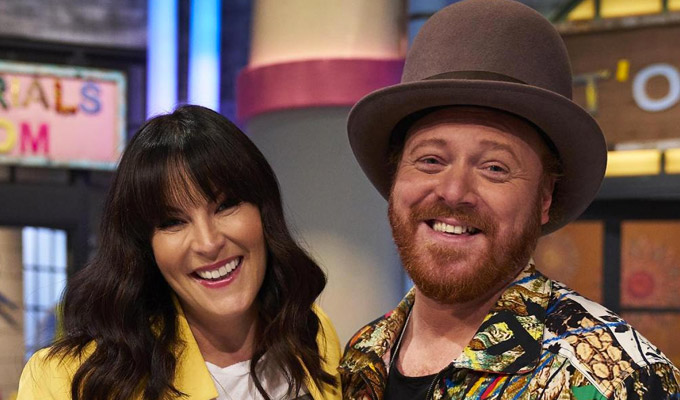 Keith Lemon's a crafty one...
He has been a face of ITV2 for more than a decade – but Keith Lemon is returning to Channel 4 for a different sort of show that fans are used to.
For the brash alter-ego of Leigh Francis is to co-host an 'inventive and spectacular' crafting series with Anna Richardson.
In The Fantastical Factory Of Curious Craft, competitors will have to create elaborate props and masks as ordered by 'factory owner' Lemon and a celebrity guest. Expert Harriet Vine and Zak Khchai will help judge the work.
Before becoming famous, Francis studied art and design at Leeds College of Art, and has made some of his own props, including an ET model built from masking tape and life-size versions of Star Wars robots R2D2 and C-3PO. He has also designed his own KIL Clothes fashion line.
He said: 'I've always had love for making things, drawing and painting. I'm also a very good dancer. But that's for a different show. I honestly can't wait to get in that Fantastical World of Factory of curious craft to marvel at the mad skills of our crafters! In fact, I'm changing my middle name of Ian to 'craft'! Keith Crafty Lemon! Word!'
Sarah Lazenby, Channel 4's head of features and formats added: 'What do you get if you cross Keith Lemon, craft, the host of Naked Attraction and a factory full of glitter? The answer is a world of pure imagination, and we can't wait for this joyous format to burst on to screens soon!'
Francis, who started his career making shorts for Comedy Central, got his breakthrough with Channel 4's Bo Selecta! in 2002, before going on to make shows for ITV and ITV2 including Celebrity Juice, Lemon La VidaLoca, Through The Keyhole and The Keith & Paddy Picture Show with Paddy McGuinness.
The Fantastical Factory Of Curious Craft is made by Gordon Ramsay's production company Studio Ramsay.
The Fantastical Factory Of Curious Craft production credits
Made by: Studio Ramsay
Commissioned by: Sarah Lazenby and commissioning editor Clemency Green
Commissioning editor: Deborah Dunnett
Executive producers: Andrew Cartmell with Lisa Edwards, Fernando De Jesus and Gordon Ramsay
Director: Ed St Giles
Published: 16 Sep 2019
What do you think?