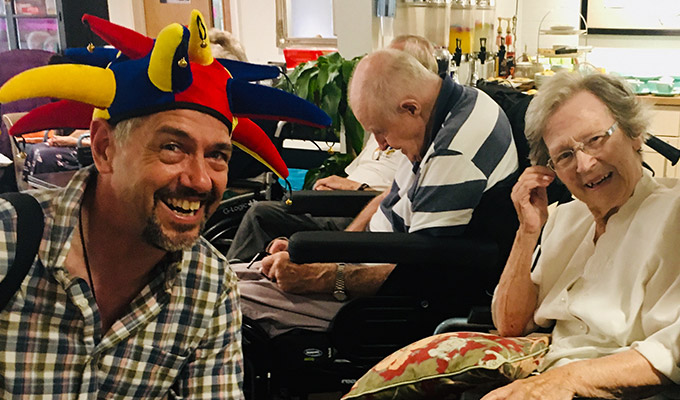 What's it like to perform comedy to an audience with dementia?
It's not their usual sort of crowd, but six newish comedians have just performed at a care home – where half the residents have dementia.
So the acts had to adapted their material for an audience who might have struggled to follow the logic of a conventional joke. Some focussed on physical comedy and others deciding to sing, recite poems and perform magic tricks.
Comic Ian Macdonald, pictured above, also runs laughter yoga and 'happiness' classes and found himself using these techniques in the show at Gracewell care home in Newbury.
He got the residents to copy his little giggles and big belly laughs, clutching his stomach and rocking back and forward as he let out a roar of laughter.
He said: 'We came into their home and the goal was to make them laugh. That was my biggest goal and I think we did that.'
Fellow stand-up Toni Kent said: 'One of the gentlemen had a filthy laugh, one produced a fantastic heckle and during my set there was a "stage invasion" as one lady asked to be led out.
'They were a tough crowd but they were a great crowd too. Best of all was the fact that everyone involved was completely up for taking their set to an audience that might not strike you as classic comedy club but are no less entitled to have access to comedy.'
Another comic on the bill, Alex Farrow, added: 'Was it a tough gig? It's not like my others! But I thought it would be a lovely thing to do. My favourite jokes were always my grandmother's jokes. I remember thinking I wonder if I can channel some of my grandmother's sense of humour here.'
Dennis Amor, 92, was moved to heckle, but said of the comedians afterwards: 'They're not bad at all. They can come back. "There should be more comedy shows. Anything what makes you laugh.'
Fellow resident Barbara Harris added: 'The comedy was so enjoyable and made the afternoon fly by.'
She said the show reminded her of when her and her husband used to watch comedians such as Ken Dodd and Morecambe and Wise at the London Palladium.
The gig was organised by comic Sam Michael, who is also marketing coordinator at carehome.co.uk, a review site for care homes.
He said:'It was a fantastic afternoon with plenty of laughter, the event was nothing like a normal comedy gig, but the audience was absolutely lovely.
'There is no age limit for comedy and we know laughter is good for you physically and mentally. It was really interesting to see the comedians adapt their performances and really pleasing to see residents laughing and even dishing out some heckles!'
Adults typically laugh just 17 times a day compared to children's 300, research has shown, and a good laugh helps alleviate depression.
Scott Lindfield, care home manager for Gracewell of Newbury, said: 'I thought the comedy afternoon was a great event for the residents. It offered something different and it was wonderful that people were willing to give up their free time to come and perform.
'Speaking with the residents after the event they told me they had a really good time.'
Also taking part were Connor McReynolds, Ed Pownall and MC Alex Farrow.
Published: 11 Sep 2019
What do you think?