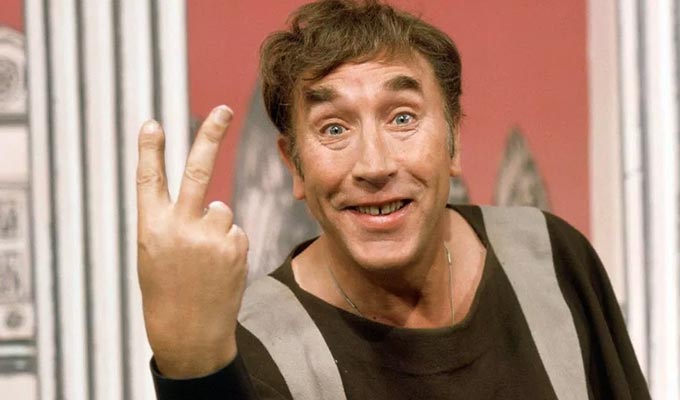 Up Pompeii! to make a comeback
Frankie Howerd's Up Pompeii! is to be revived as a new audio recording, 50 years after the ancient Roman comedy first aired.
David Benson – who has previously played Howerd in a one-man stage show – will be reprising his role for the recording.
He will be playing the slave Lurcio in a version of the spin-off stage play that Howerd originally asked one of his writers, Miles Tredinnick, to pen in 1988 so he could tour off the back on the of the BBC One comedy.
However, those plans were shelved when the comic was offered a chance to reprise his role as Pseudolus in the similar A Funny Thing Happened on the Way to the Forum at the Piccadilly Theatre in London's West End. The play only saw the light of day in 2011, almost 20 years after Howerd's death.
The new recording features an all-star cast including Tim Brooke-Taylor as Captain Treacherus, Emmerdale star Frazer Hines as Ludicrus Sextus, Kenny Everett's sidekick Cleo Rocos as Suspenda and Madeline Smith – the Hammer Horror star who appeared opposite Howerd in the 1971 film version of Up Pompeii! – as Ammonia.
Up Pompeii! first aired on BBC One on September 17, 1969, as part of the Comedy Playhouse series. It ran for two seasons in 1970 and two specials, as well as the film. It attracted up to 12million viewers at its peak.
This new feature-length audio revival will be recorded at two public performances at London's Shaw Theatre on Saturday October 12, and released on CD and download via Amazon, iTunes and spitefulpuppet.com in late November.
The audio adaptation was co-written by Barnaby Eaton-Jones, who has previously revived I'm Sorry I'll Read That Again... Again! and The Goodies, and who has a role in the new recording as as Kretinus.
Benson has a track record of reviving comedy greats. He became known for his one-man stage show, Think No Evil Of Us: My Life With Kenneth Williams when he played the Carry On star. He has also played Noël Coward in the 1990s BBC comedy series Goodnight Sweetheart and has toured with the Dad's Army Radio Show, in which two performers played 25 characters.
Published: 2 Sep 2019
What do you think?