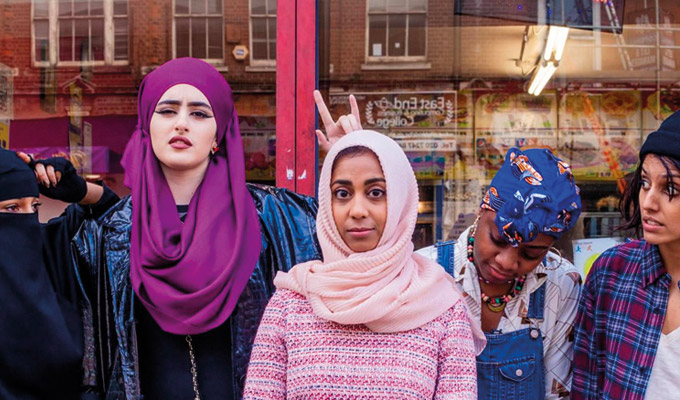 C4 orders a sitcom about a female Muslim punk band
Channel 4 is making a comedy series about an all-female Muslim punk band.
Lady Parts was commissioned following a successful 14-minute pilot released as an online Comedy Blap last year.
It was created by writer/director Nida Manzoor and revolves around the titular band, featuring geeky PhD student and lead guitarist Amina Hussein and enigmatic front-woman Saira
Manzoor said: 'I had such a blast making the C4 Comedy Blap and am so thrilled to have the opportunity to make a full series. The show is So Close to my heart and I feel very lucky.'
Channel 4 comedy head Fiona McDermott added: 'Lady Parts promises to be an audacious, celebratory and hilarious new comedy.
'Nida is a phenomenal talent who had such vision for this show and the women and world she wanted to portray, it was impossible not to succumb to it after the success of the Blap.
'We're thrilled to be working with her and all at Working Title on scaling it up.'
The pilot – below – starred Anjana Vasan, Ritu Arya, Juliette Motamed, Lucie Shorthouse, Danielle Vitalis, David Avery, Shobu Kapoor and Madhav Sharma.
<iframe width="560" height="315" src="https://www.youtube.com/embed/cOEXtrPFEzc" frameborder="0" allow="accelerometer; autoplay; encrypted-media; gyroscope; picture-in-picture" allowfullscreen></iframe>
Lady Parts production credits
Made by: Working Title Television
Commissioned by: C4's gead of comedy Fiona McDermott and commissioning executive Laura Riseam
Executive producers: Mark Freeland and Surian Fletcher-Jones.
Published: 21 Aug 2019
What do you think?