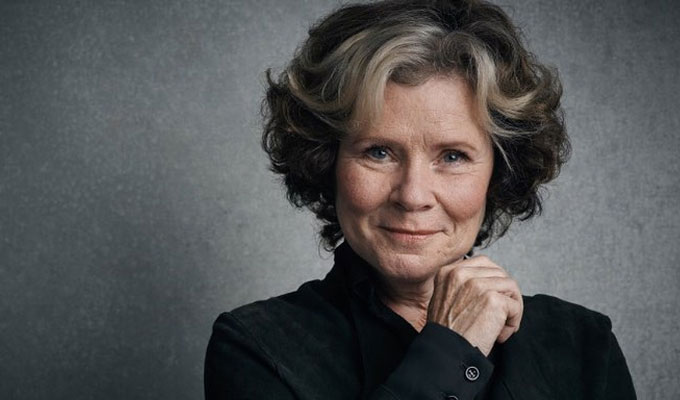 Imelda Staunton to star in BBC-made comedy
Imelda Staunton is to star in the BBC's first comedy co-production with Apple, Chortle can reveal.
Written by former stand-up Andy Wolton, the show has the working title Alabama and also features Darren Boyd and Phil Davis.
Production on the comedy drama is under way and the 'major eight-part series' will air worldwide next year on the tech giant's new digital platform
The show has been directed by Catastrophe's Jim O'Hanlon and produced by Chris Sussman, head of comedy for BBC Studios.
Plot details have yet to be revealed. A writer for Mock The Week, The Now Show and The News Quiz, Wolton previously wrote the 2016 BBC Two sitcom pilot The Coopers Vs. The Rest, about a family of adopted children.
Though best known for her dramatic roles, Staunton played the shadowy Grace Andrews in the second series of Psychoville and Mrs Mead, Andy's strict Irish carer in the third series of Little Britain.
The Bafta-winner's sitcoms include ITV's Up The Garden Path, in which she played a teacher in a love triangle and Simon Nye's 1990s solicitor comedy Is It Legal?.
She also starred with Michael Ball in Victoria Wood's musical That Day We Sang, and its subsequent BBC Two adaptation, Wood's final major project before she died in 2016.
Speaking in the House of Lords last month, Apple's European creative director of worldwide video, former Channel 4 boss, Jay Hunt, revealed that the company has already spent millions in production with British content producers, including BBC Studios. She Hunt said that the video-on-demand giant's 'intervention' in the UK is 'important'.
'I commission a considerable amount of content from the UK creative community' she said. 'It is exciting to have an organisation of Apple's size coming into the UK and giving the sector here that level of scrutiny and support. Long before we have even launched our original commissioning strategy, millions of pounds have been spent on commissioning with British production houses.'
She added that Apple's total level of investment in this country would be 'meaningful … there is no requirement for Apple to operate in the UK, so it is significant that we are here.'
Both BBC Studios and Apple declined to comment on Alabama.
- by Jay Richardson
Published: 12 Jul 2019