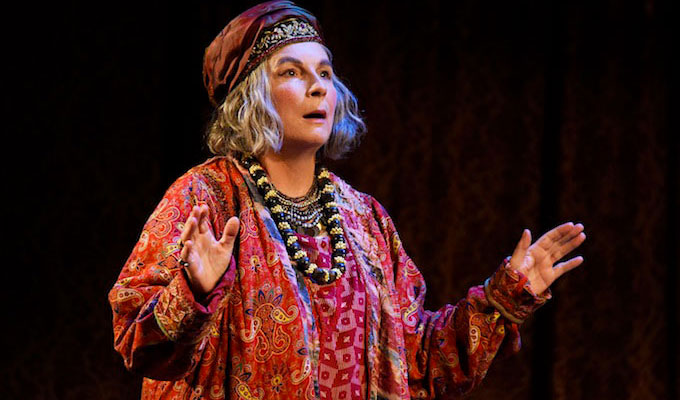 Plaudits for Jennifer Saunders in Blithe Spirit
Jennifer Saunders has won rave reviews for her performance in the revival of Noel Coward's Blithe Spirit.
The show at the Theatre Royal Bath attracted four-stars almost across the board, with the Absolutely Fabulous creator winning plaudits for her star turn as insane clairvoyant Madame Arcati.
Her character – originally made famous by Margaret Rutherford in the West End and the 1945 David Lean film version – stages a seance at a novelist's home and inadvertently conjures up the ghost of his first wife
Dominic Cavendish in The Daily Telegraph raved that Saunders' fully physicalised, funny bones to the fore, harnessing everything we love about her but entering another dimension of expressiveness'.
In The Times, Sam Marlow said: 'Saunders is killingly funny as the meddling medium', and writing in the Daily Mail, Patrick Marmion said of Saunders' appearance: 'It's as though Ab Fab's Eddie has body-snatched Miss Marple and fitted her with a rogue eye for a cucumber sandwich.'
Jeremy Brien in The Stage said Saunders 'is tailor-made for the role of the dotty, but deadly serious, medium'.
The Guardian broke ranks by only awarding three stars but Arifa Akbar wrote: 'Saunders is a natural in the role… She draws laughter with physical comedy that is downplayed but effective. [But] when Saunders is not on stage, the pace flags and the pitch of the comedy veers between flat and a little too hysterical.'
Directed by former National Theatre boss Sir Richard Eyre, Blithe Spirit runs at the Theatre Royal Bath until July 6.
A big-screen version of Blithe Spirit is also in the works with Dame Judi Dench taking the role of Arcati.
Published: 21 Jun 2019
What do you think?