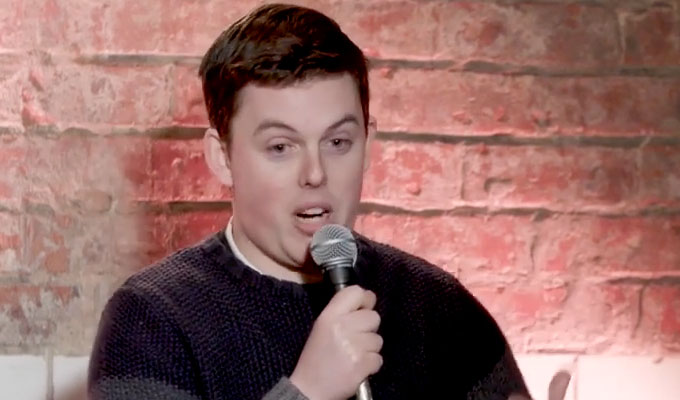 World's first online Welsh language comedy platform launches
S4C has today launched what it claims is the world's only online Welsh language comedy platform.
The broadcaster will use the platform to commission up-and-coming talent to create short-form content such as stand-up, satire, sketches, mini-sitcoms and musical numbers for YouTube and Facebook.
Elen Rhys, S4C's entertainment content commissioner said: 'This is an exciting time for S4C and Welsh comedy. Comedy is very much alive in the Welsh language, and S4C Comedi is a testament to S4C's dedication to promote and develop Welsh talents within the genre.
'When we originally called out for comedy content, the commissioning team were flooded with quality pitches, and we are very excited to highlight some of these amazing works on S4C Comedi'
Among the commissioned content are Pwnc Pum Munud, a compilation of stand-up sets gathered from comedy nights held across Wales, and Bip, a series of comedy songs from Carys Eleri, Diawl o Ddêt and comedian Esyllt Sears.
Sears said: 'The Welsh language stand-up scene, and comedy in general, is currently at an exciting time, with an increase in job opportunities available for new up-and-coming comedians and established entertainers.
'But for comedy in any language to mature and flourish, it's all-important for scriptwriters, performers, and directors to get the chance to experiment and develop ideas. I'm hopeful that the new platform will offer this chance.'
Rhodri ap Dyfrig, S4C's online content commissioner said: 'With more and more time spent on non-linear viewing, S4C is committed to growing and developing its online content. We're excited to launch this new platform and directly deliver comedy to our digital audiences, providing a space for Welsh talent to develop.'
The S4C broadcast channel also this week launches, Elis James' comedy show, Nabod y Teip, in which the comedian delves into S4C's archive to discover the different 'types' of Welsh people who roam the country.
He said: 'I'm very much looking forward to S4C Comedi. Now, no one has an excuse to not watch my comedy at any time of day!'
---
This news in Welsh
Nid hen grefft yw comedi - mae'r genre mor fyw ac erioed yn y Gymraeg, yn ôl Comisiynydd Cynnwys Adloniant S4C, Elen Rhys, ac mae hafan gomedi digidol newydd y sianel yn sicr yn dystiolaeth o hynny.
Yr wythnos hon (11 Mehefin), bydd S4C yn lansio S4C Comedi, platfform comedi digidol newydd sbon, i hawlio'i le fel yr unig blatfform comedi digidol yn y Gymraeg. Gyda nifer o gynnwys ffurf-fer gwreiddiol yn barod wedi eu comisiynu ar gyfer y platfform, mae S4C Comedi, fydd ar gael ar Facebook a YouTube, wedi ymroi i ddatblygu a meithrin talent gomedi yn yr iaith.
Meddai Elen Rhys: "Mae hi'n gyfnod cyffrous iawn i gomedi yng Nghymru, yn enwedig ar ôl derbyn dau enwebiad yn ddiweddar am gomedi yn yr Ŵyl Cyfryngau Celtaidd.
"Mae lansio S4C Comedi yn gyfle i ddatblygu a meithrin talent gomedi yn y Gymraeg. Nid hen grefft yw comedi, mae mor fyw ag erioed yn y Gymraeg ac mae S4C am glodfori hynny gan roi llwyfan teilwng i'r genre, gan amlygu gweithiau awduron, comediwyr a chynhyrchwyr talentog.
"Pan galwon ni allan am gynnwys comedi, roedd y tîm comisiynu wedi eu synnu ar yr ochr orau ar y cynifer o ddeunydd ddaeth i law. Mi rydym ni'n edrych mlaen yn fawr i arddangos rhai o'r gweithiau hynny ar blatfform S4C Comedi."
Ymhlith y gweithiau sy'n barod wedi eu comisiynu gan S4C mae Pwnc Pum Munud, cyfres stand-yp gyda chynnwys wedi eu casglu o nosweithiau comedi ar hyd a lled y wlad. Hefyd, cyfres o ganeuon dychanol o dan yr enw Bip, wedi eu cynhyrchu gan Griff Lynch ac yn serennu'r comedïwr Carys Eleri, yn ogystal â Diawl o Ddet gydag Esyllt Sears. Ymhlith y cynnwys eraill mae gweithiau gan awduron megis Catrin Dafydd, Gruffudd Owen a llawer mwy.
Meddai Esyllt Sears: "Mae'r sin stand-yp Cymraeg, a chomedi yn gyffredinol, yn profi cyfnod ofnadwy o gyffrous ar hyn o bryd, gyda nifer cynyddol o gyfleoedd ar gael i gomedïwyr newydd a rhai sydd wedi sefydlu enw i'w hunain eisoes.
"Ond er mwyn i gomedi mewn unrhyw iaith aeddfedu a chryfhau, mae'n hollbwysig bod sgriptwyr, perfformwyr a chyfarwyddwyr yn cael cyfle i arbrofi a datblygu syniadau, a dyna be dwi'n gobeithio bydd y platfform newydd yma'n darparu."
Mae S4C Comedi yn ychwanegiad at bortffolio digidol gyfoethog S4C, sy'n cynnwys S4C Dysgu Cymraeg, S4C Chwaraeon, Cyw a Hansh, sianel S4C ar gyfer y gynulleidfa iau, a ddenodd 7 miliwn o sesiynau gwylio ar draws blatfformau'r cyfryngau cymdeithasol yn y flwyddyn ddiwethaf.
Dywedodd Rhodri ap Dyfrig, Comisiynydd Cynnwys Ar-lein S4C: "Gyda mwy o amser yn cael ei dreulio ar wylio teledu ar alw, mae S4C wedi ymroi i ddatblygu eu cynnwys ar-lein. Rydym ni'n gyffrous iawn i lansio'r platfform newydd fydd yn adlonni ein cynulleidfa ddigidol, gan gynnig lle i dalent Gymraeg feithrin a datblygu."
Daw lansiad y platfform newydd law yn llaw â chyfres newydd yn serennu'r comedïwr enwog Elis James. Mae Nabod y Teip, sy'n dechrau nos Fercher ar S4C, yn cynnwys Elis yn neidio'n ddwfn i archif S4C i ganfod y gwahanol 'deips' o bobl sy'n crwydro Cymru.
Dywedodd y cyflwynydd radio 5Live, Elis James: "Dw i'n edrych ymlaen yn fawr at S4C Comedi. Nawr does dim esgus 'da chi i beidio gwylio fy nghomedi unrhyw awr o'r dydd!"
Published: 11 Jun 2019
What do you think?