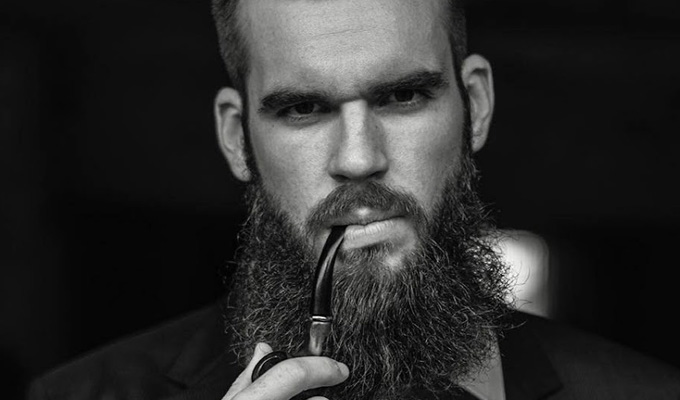 'The mainstream media are out to destroy me'
An Australian comedian criticised for making anti-semitic comments has claimed the 'mainstream media has gone on an all-out assault' to 'destroy' him.
Isaac Butterfield was the subject of a 200-word article in Melbourne's Herald Sun at the weekend after making a joke that mentioned the Holocaust during his show at the city's comedy festival.
And when an offended Jewish audience member contacted him to complain, he shot back: 'If you can't stand the heat get out of the oven.'
Now the comic – who has built up a massive following on social media – has claimed that the newspaper had made him a 'bigger story' than the Sri Lankan massacre, leveraging their 'unrelenting power' to bring him down and make him an 'enemy of the people'.
'The mainstream media has gone on an all-out assault on me,' he said in a YouTube video. 'The attack they have launched has been designed to discredit me, deplatform me, and then destroy me.'
He refused to apologised for what he said on stage saying he would never back down on a joke that was designed to do nothing more than make people laugh. But he did apologise directly to the woman who complained for his response to her.
According to the initial report, Butterfield told his audience: 'Imagine the joy of people when they heard the Jews were sent to the gas chambers'.
When asked by the newspaper to comment on the allegations he declined. But despite not putting the reporter right at the time, his YouTube video he slammed her for spreading a lie.
He played a recording of from the show which related to an alleged discussion with a vegan – one of Butterfield's regular targets. The man supposedly told him said: 'If you got to know me you'd change your mind on vegans.
'That's so ridiculous that I'd change my mind just because I got to know him,' Butterfield said in the joke. 'That's like a Jew in 1942 turning up at Auschwitz…
Then he added: 'Anyway we gassed the cunt' – meaning the vegan
'Turns out it's a joke about vegans,' Butterfield said on the YouTube video.
Nonetheless, it offended the audience member who sent the comedian an email, saying: 'Sitting there hearing about Jews being gassed, eight million perished including children, watching family members being gassed or tortured or shot, is not remotely funny.'
He replied: 'If you can't stand the heat, get out of the oven.'
The woman, who did not want to be identified, saw this as a further attack. 'This is simply disgraceful,' she told the newspaper: 'I am outraged and distressed that this type of attitude and ignorance exists and is a topic of humour for a one-man show," she said.
Australia's Anti-Defamation Commission chairman Dvir Abramovich said the comedian should apologise for the comments.
'It's never OK to spew such hate rhetoric, and Isaac Butterfield should be ashamed for his hideous remarks that crossed all lines and which trampled on the memory of the dead,' he said.
'It is beyond shocking to exploit the extermination of six million Jews in the Holocaust to generate despicable jokes. When you consider that the corpses of those killed with the poison gas were often cremated in ovens, Mr Butterfield's email response of "get out of the oven" is disturbing and vicious.'
Butterfield said he did apologise for the woman, saying his email sent in the heat of the moment might have been appropriate for a heckle putdown, but not a one-on-one email exchange.
He then used the video posted to his 850,000 YouTube subscribers to leverage the outrage into a sales pitch for a stand-up special he is releasing next month.
The stand-up claimed a streaming service - which he did not name – had wanted to distribute the show, but insisted on cuts in the ground of taste, so he cancelled the deal to release it directly. 'I will not be censored. I will not yield, I will not stop,' he said.
Butterfield has set himself up as a one-man crusader against the forces of political correctness, claiming to be the only comedian in Australia to be telling jokes he knows to be offensive because they amuse him.
In another video posted last week, he raged: 'Social justice warriors, the PC police, feminists, vegans - everyone's trying to telling me what to do. Well, I'm coming to put a stop to it all… It's nothing less than censorship. It's controlled speech.
'Australian comedy is under attack! Something needs to be done right now.'
And he claimed his stance would 'make me Public Enemy No 1. They will do anything within their power to stop me. They will try to shun me from the [comedy] community and shut me down. So I say this to all the cocksuckers with your little degrees, "Bring it on bitch".'
Here's a trailer for Butterfield's live shows.
And here's his response to the 'anti-semitism' row.
Published: 24 Apr 2019
What do you think?