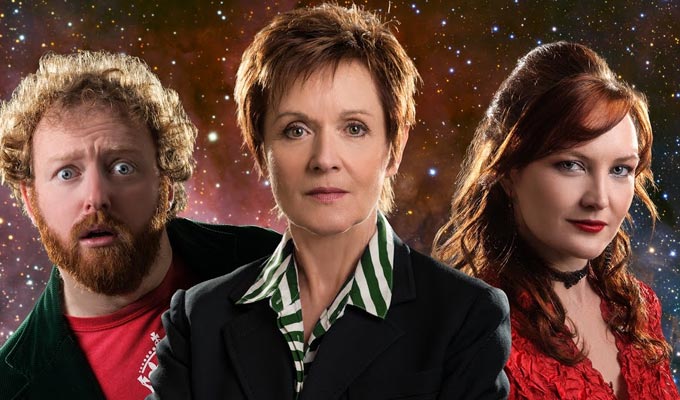 BBC buys Australian sci-fi comedy
An Australian sci-fi comedy, originally made by crowdfunding for a digital download, has been snapped up by BBC radio.
Night Terrace is a half-hour narrative comedy starring Jackie Woodburne – who played Susan Kennedy in more than 5,000 episodes of Neighbours – as a former government scientist whose quiet retirement is disturbed when her house unexpectedly starts travelling through space and time.
Comedian Ben McKenzie, who co-wrote the script, and actor/singer Petra Elliott join her – while the guest cast includes comics Alan Brough, Cal Wilson, Celia Pacquola, Adam Richard, Dave Callan, Lawrence Leung, Tripod's Steven Gates and the late John Clark.
It even features cameos from Louise Jameson – Doctor Who's Leela – and Nicholas Briggs, who was the voice of the Daleks.
The show originated from a Doctor Who podcast, Splendid Chaps, and will air on Sundays on Radio 4 Extra at 6pm from April 21. Series two will follow in the same timeslot from August 25.
Head writer John Richards said: 'I'm stunned we went from doing a podcast in Melbourne pubs to having our comedy series on BBC Radio. It's like we just won an Oscar for pole dancing.
'I'm a huge fan of radio drama and comedy - due to a long commute I currently listen to more drama than I watch. So it's a thrill that Anastasia Black is heading to the home of The Goons, the Hitchhiker's Guide To The Galaxy and that show that used to look at famous pipe organs.
'We came into Night Terrace wanting certain things - we wanted a female lead, we wanted her to be a bit grumpy but also the smartest person in any room. And we wanted it to be distinctly Australian. We wanted it to be big and bold and thoughtful and silly and it's been all of those things.'
Listen to episode one of the first season, Moving House, below.
Published: 24 Mar 2019