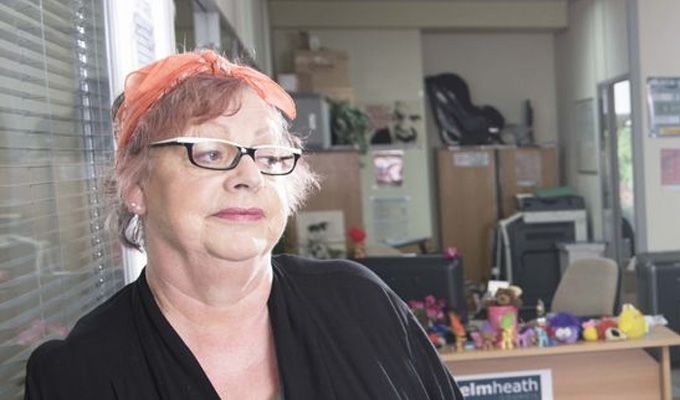 Jo Brand plans an 'OAPs behaving badly' sitcom
Jo Brand is working on a new comedy series about pensioners behaving badly.
The comic says she was inspired to create the show as she was fed up of OAPs becoming invisible in society.
'Older people are just people,' she said. 'I feel letting an entire generation of people just fade into the background just because they are going to die a bit earlier than young people is not fair.'
She is working on the project with Morwenna Banks, who would co-star as her sister. The pair previously created Damned, set int the world of social workers, which was cancelled by Channel 4 last year.
News of the new project comes in the Imagine… profile of Brand which airs on BBC One tonight.
The film shows the pair woking on ideas, which Brand writes in a notebook entitled 'evil plans'.
She explains that the proposed show would be set in 'an isolated area of a very underpopulated county.'
And petite Banks – physically very different from Brand – asks: 'Do you still like the idea that we are identical Twins?'
'I do.. the idea that no one can tell us apart!'
'And you wanted to be completely bald as well at one point.'
'I think maybe I've had a hair dye accident because I have actually had a hair dye accident'
Talking about what the characters might be called, Brand says: 'I like Bumpty Chudney
'So are going to be Bumpty and…,' Banks adds.
'Bumpty and Cunty? Tempting isn't it?'
They decide that might be a 'working title' for the comedy.
Other ides is that one of them is on HRT and the other is on 'their own version of it - she rubs sheep shit on herself' and that they have teenage foster children, 'and one foster child who's inexplicably older than them and nobody knows how it happened'.
During the programme,Brand goes back to the South London house she was born in, recalling its outside toilet and tin bath in front of the fire – as well as the relationship with her father, who could be abusive as he suffered depression but refused treatment.
She recalls how he who hit her 'a few times', adding: 'I think I've blocked a bit of it out. He certainly knocked out one of my boyfriends. He was quite scary.' He also once kicked her record player so hard against the wall it broke, and set fire to all her clothes in a backyard bonfire to stop her going out.
But the film primarily focuses on how she took on the man's world of comedy, rising from the anarchic black-clad Sea Monster to becoming the popular host of the Great British Bake Off Extra Slice.
• I'm not a national treasure, I'm a national disgrace.' Jo Brand in her own words
• Imagine: Jo Brand - No Holds Barred is on BBC One at 10.45pm tonight, then on iPlayer.
Published: 28 Jan 2019
Recent News
What do you think?