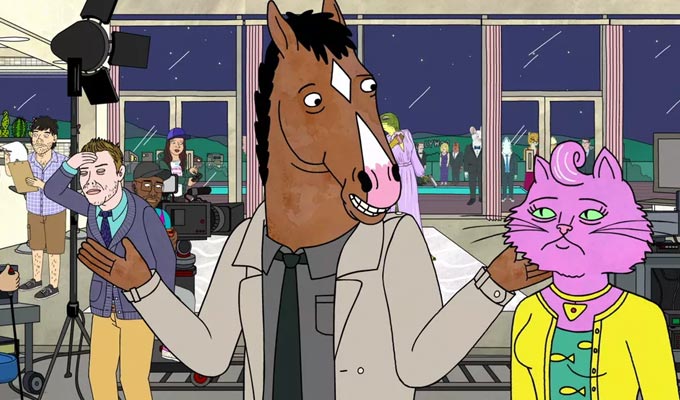 Bojack's back
This week's comedy on demand.
Bojack Horseman
An animated comedy about a washed-up sitcom star who just happens to be a horse might one have seemed like a flash-in-the-pan gimmick. But as Will Arnett's series has gone on, it's shown a daring ambition to push the form – the undersea Fish Out Of Water episode is a real trip – as well as a willingness to excoriate the psyche its complex lead character.
This series may now be biting the hand that feeds it – Netflix really should have held its palmout flat – with Bojack starting the new series 5 starring in Philbert, a brooding male-centric show for an on-demand service keen to underline its prestige offering.
And it seems that the show will explore Bojack's difficulties in keeping his fictional self separate from his real self. It's sure to be a fascinating and darkly funny journey. Watch here
Daniel Sloss
Netflix has also dropped two specials by the Scottish stand-up this week: Jigsaw and Dark, recorded in Los Angeles and Sydney and offering his hard-edged take on topical issues and personal anecdotes.
Sloss has performed stand-up on late-night talk shows a few times, but this will be a more significant way of introducing him to US audiences.
He tackles the like of irritating vegans and American's deadly fetishisation of gun ownership, as well as discussing his sister with cerebral palsy – in a similar way to how Jim Jefferies came to attention with a mix of provocative opinion with raw but rewarding stories of his pal with muscular dystrophy. And that approach worked out OK for him…
Hate Thy Neighbour
Under a new deal, Channel 4 is making a load of content made for the Viceland channel available on its All4 on-demand service, including this series in which stand-up Jamali Maddix (a former Chortle Student Comedy Award winner) confronts far-right groups on the rise in the UK, US and Europe.
Epsiodes cover the largest Hitler-idolising Neo-Nazi group in America, who openly idolise Adolf Hitler; black separatists; the far-right hate mobs who prowl Sweden's streets hunting 'rapefugees'; and a group in the Holy Land that tries to prevent Arabs and Jews from marrying – among others.
Watch here
Fingers On Buzzers
This new podcast about the subject of quiz shows is hosted by comedian and keen amateur quizzer Lucy Porter and The Chase's very own Vixen, Jenny Ryan. 
Over the series they will speak to a host of people who work behind the scenes including QI elf James Harkin, Roger Tilling (the 'voice' of University Challenge) and Jenny Hawker (Only Connect Producer); plus, we hear from famous winners and losers of quiz shows past and present, from Bullseye and Blockbusters to Britain's Brightest Family .
The first three episodes dropped this week and you can listen and subscribe here
Norm Macdonald
He's crashing into PC sensibilites like a bull in a china shop at he moment, prompting anger for saying the #MeToo movement has gone too far, and then offending Down's Syndrome activists in his clumsy apology.
It was all in the clumsy attempt to promote his Netflix tals show Norm Macdonald Has A Show, with guests Drew Barrymore, David Spade, David Letterman, Jane Fonda, Chevy Chase, M. Night Shyamalan, Michael Keaton, Lorne Michaels, Judge Judy and, erm, Billy Joe Shaver, a country-music star little known over here.
It's the spiritual successor to his hit cult vodcast Norm Macdonald Live, but has divided critics. While Yahoo called it ' hugely entertaining and frequently surprising', but Vulture called it 'comedy relic', just another example of comics 'just sittin' around, tellin' stories, havin' a great time, shootin' the shit' amid a sea of such content.
Judge for yourself here if you're a Netflix subscriber.
Published: 15 Sep 2018
What do you think?