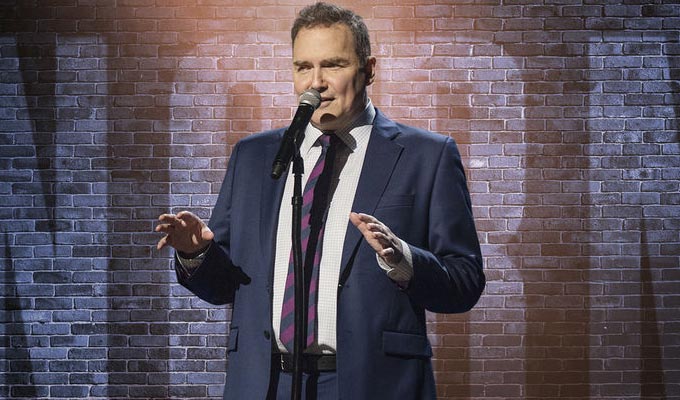 Talk show drops Norm Macdonald over #MeToo controversy
American comedian Norm Macdonald was bounced off Jimmy Fallon's talk show last night after he made controversial remarks about the #MeToo movement and Roseanne Barr.
The comic was hastily cancelled from NBC's Tonight Show following a backlash to comments he made suggesting the movement to name and shame men accused of inappropriate sexual behaviour had gone too far.
In an interview with Hollywood Reporter, Macdonald said he was 'happy the #MeToo movement has slowed down a little bit', adding: 'It used to be, "One hundred women can't be lying.'"And then it became, "One woman can't lie." And that became, "I believe all women."
'And then you're like, "What?" Like, that Chris Hardwick guy I really thought got the blunt end of the stick there."
Podcaster and broadcaster Hardwick's ex-girlfriend Chloe Dykstra publicly alleged that she had been subjected to emotional and sexual abuse by an ex-boyfriend, widely assumed to be Hardwick. He was blacklisted from much of his work, but later reinstated following an investigation. Colleagues have protested both about his suspension and about his rehiring.
Macdonald also said that he felt Roseanne Barr was treated harshly after she likened Obama adviser Valerie Jarrett to an ape. Her tweet was seen as racist and cost the comedian her eponymous ABC show.
And he slammed Hannah Gadsby's acclaimed Nanette special – despite never having seen it.
'I have never seen the Nanette thing because I never wanted to comment on it,' he said, 'But from what I have read about it, [Gadsby] is saying that comedy is now not about laughter. And of course that's a slap in the face of a traditional stand-up comedian who thinks that comedy by dictionary definition is about laughter.... Nanette doesn't sound like stand-up to me. That sounds like a one-woman show. And one-person shows are, to me, incredibly powerful. But it's not stand-up comedy and it's not the same thing.'
Gadsby responded by tweeting: 'I'd never heard of this Norm McDonald bloke because I didn't want to make a comment about him. I don't like him though. #dickbiscuit'
Macdonald later apologised for his comments on #MeToo, admitting he was 'minimising the pain' felt by victims.
'Roseanne and Louis [CK] have both been very good friends of mine for many years,' he tweeted. 'They both made terrible mistakes and I would never defend their actions. If my words sounded like I was minimizing the pain that their victims feel to this day, I am deeply sorry.'
But rather than having Fallon grill the comic on his views, Tonight Show producers dropped him from the show.
NBC said in a statement: 'Out of sensitivity to our audience and in light of Norm Macdonald's comments in the press today, The Tonight Show has decided to cancel his appearance on Tuesday's telecast.'
In 2016 Fallon was accused of giving then candidate Donald Trump a softball treatment on his show, including ruffling his hair. The interview was seen as damaging the host's credibility as a smart comic.
Published: 12 Sep 2018
What do you think?