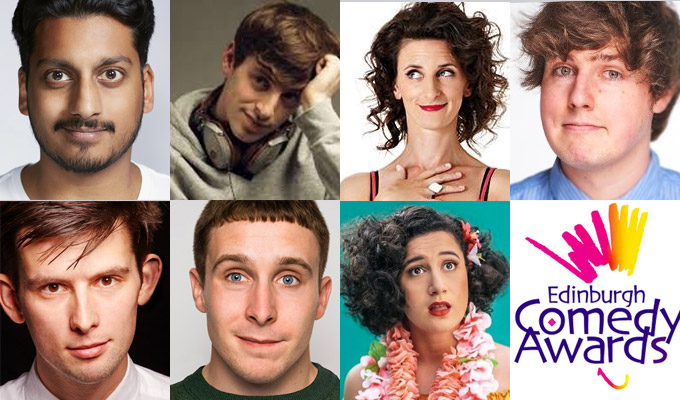 Revealed: The 2018 Edinburgh comedy award nominees
The nominees have been announced for this yearsEdinburgh Comedy Awards
And, notably, six of the seven comedians shortlisted for best newcomer are women.
Up for best comedy show are:
Ahir Shah: Duffer (Laughing Horse @ Cabaret Voltaire)
Alex Edelman: Just For Us (Pleasance Courtyard, Cabaret Bar)
Felicity Ward: Busting a Nut (Pleasance Courtyard, Pleasance Above)
Glenn Moore: Glenn Glenn Glenn, How Do You Like It, How Do You Like It (Just The Tonic at the Tron)
Kieran Hodgson:'75 (Pleasance Courtyard, Beneath)
Larry Dean: Bampot (Assembly Checkpoint)
Rose Matafeo: Horndog (Pleasance Courtyard, Pleasance Above)
The nominees for best newcomer are:
Ciarán Dowd: Don Rodolfo (Pleasance Courtyard, Pleasance That)
Maisie Adam:Vague (Gilded Balloon ,Teviot)
Olga Koch: Fight (Pleasance Courtyard, Pleasance This)
Sara Barron: For Worse (Just The Tonic at the Tron)
Sarah Keyworth: Dark Horse (Pleasance Courtyard, Bunker Two)
Sindhu Vee: Sandhog (Pleasance Courtyard)
Nica Burns, director of the Edinburgh comedy awards, praised the 'truly international shortlist of extremely talented funny comedians for best comedy show, with female stand-ups dominating an outstanding best newcomer shortlist for the first time in the history of the awards'.
She added: 'Between them, they cover every aspect of contemporary life from why Britain voted to stay in the EU in 1975 to family, personal relationships, love, sex in your 20s, gender and sexual identity, living with your in-laws and being the only Jew at a meeting of the far-right. '
Of the main list, Edelman is American, Ward Australian and Matefeo a New Zealander, although the latter two are based in the UK.
The winners will be announced at lunchtime on Saturday.
As always there is a £10,000 prize for best show and £5,000 for best newcomer and for the panel prize for encapsulating the spirit of the fringe.
Last year's main award was shared between Hannah Gadsby and John Robins, with Natalie Palamides best newcomer.
This year's panel is chaired by Sunday Times comedy critic Stephen Armstrong and comprises: Herald comedy critic Gayle Anderson, Sky comedy commissioner Morwenna Gordon, BBC comedy producer Richard Morris, BBC assistant comedy commissioner Sarah Asante, Saurabh Kakkar from Big Talk Productions, Daily Telegraph culture writer Tristram Fane Saunders and public panellists Jane Dempsey, Joe Gardner and Tashi Radha.
Published: 22 Aug 2018
What do you think?