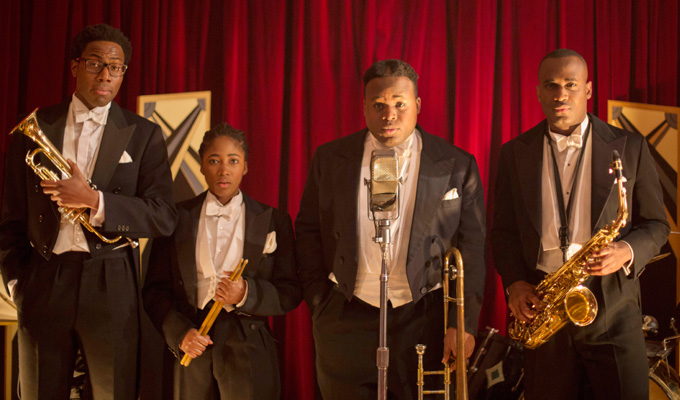 Filming starts on Timewasters series 2
Shooting is to start on the second series of ITV2's time-travelling comedy next week.
As Chortle reported five weeks ago, the show is due to return to the channel in 2019.
But while the first series was set in the 1920s jazz era, the second run takes the contemporary South London musicians back to the capital in the 1950s, among slick-haired Teddy Boys, the vibrant Windrush crowd, box-fresh televisions and the dawn of rock 'n' roll.
The core stars are returning: creator and star Daniel Lawrence Taylor, Kadiff Kirwan, Adelayo Adedayo and Samson Kayo – while Four Weddings star Anna Chancellor, Phoneshop's Javone Prince, comic and Windsors actor Ellie White and Flowers star Daniel Rigby are all joining the cast.
In the new series, Kirwan's character Jason discovers that his one true love from the 1920's, Victoria, is alive and well and now has a thirty-two-year-old son. Lauren is on a roll with more get-rich-quick schemes, and Horace inadvertently introduces garage music to a young Ronnie Scott.
But in an atmosphere of post-war Cold War paranoia our gang wonder if their time-travelling antics will be spotted - someone seems to be on their tail.
The first series was the most watched new comedy in 2017 for 16-24's on any UK digital channel.
But although it launched with 431,000 overnight viewers on October 9 last year, it slumped to 162,000 by the end of the six episodes. However, it was praised by critics, nominated for best comedy series at the Baftas and won Taylor the RTS award for breakthrough talent.
The credits
Writers: Daniel Lawrence Taylor with Barunka O'Shaughnessy, Claire Downes, Ian Jarvis Stuart Lane
Made by: Big Talk Productions
Executive Producers:Kenton Allen and Victoria Grew
Producer: Jim Poyser
Director: George Kane
Commissioned by: Paul Mortimer, ITV's director of digital channels and acquisitions and Saskia Schuster, ITV's comedy controller.
Published: 8 Aug 2018
What do you think?