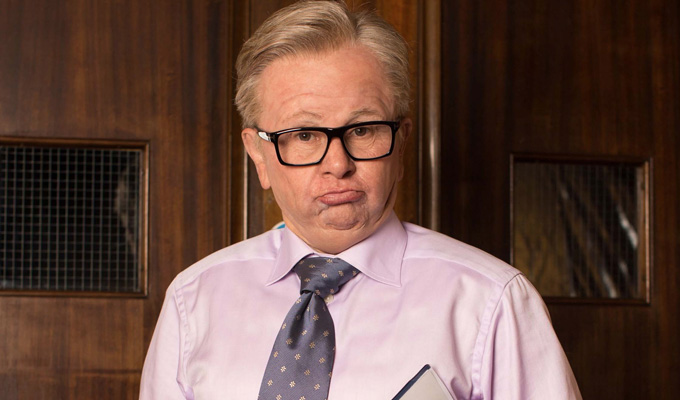 Tracey Ullman takes on Michael Gove
Here's Tracey Ullman as you've never seen her before: As Michael Gove.
The Brexiteering Environment Secretary is one of the new characters the comedian will be taking on when her topical show Tracey Breaks The News returns for a second series early next month.
Three new half-hour episodes return to BBC One from 9.30pm on Friday June 1, the broadcaster has confirmed today.
Another new character is Jacob Rees-Mogg, to be played by Liam Hourican, who will be accompanied by his very long-suffering Nanny…
The show has been in production since February, when the star told writer and broadcaster Claire Fordham: 'We're writing now. It takes us a long time
Speaking on the podcast The Chat, Ullman said she enjoyed the last-minute nature of the format.
She said: 'Now we are doing a more immediate format, which is great fun. I always used to shoot shows and then they would go out six months later.
'But everything's so fast in the world now… I couldn't do an Angela Merkel piece or a Theresa May piece and put it out six months later
'What we do now is we do three shows – which is what we are doing now - and we'll shoot for two weeks and try to do stuff that's going to resonate for a while.
'Then we go in for three consecutive weeks when we write on the Friday and the Monday then we'll shoot on the Tuesday/Wednesday then on the Thursday as well if we have to, and it goes out on the Friday so it's really current
'That's been so much fun – it's like doing my own little Saturday Night Live. I love it and the writers love it.'
Tracey Breaks The News was a spin-off from Tracey Ullman's Show, her British TV comeback in 2016 and launched with a single special in June 2017, with a run of three episodes following later that year.
Comic Gemma Arrowsmith is to return as part of the supporting cast, and last month posted a picture of her trailer from the set:
Laurence Howarth, Samantha Spiro and Ben Willbond also appeared in the first season.
Published: 16 May 2018
Recent News
What do you think?