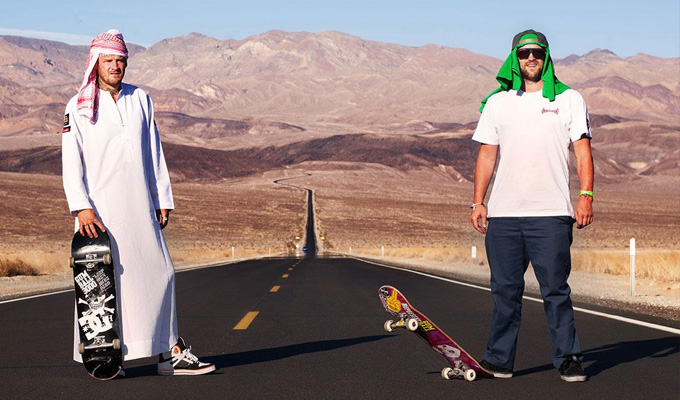 Dirty Sanchez tour go on tour
Two of the stars of extreme MTV prank show Dirty Sanchez are going out on tour.
Mathew Pritchard and Lee Dainton will be reminiscing about the show with clips, outtakes and audience Q&A over at least five dates this April.
The shows will mark 15 years since they formed their practical joke collective with Michael Locke (aka Pancho) and Dan Joyce.
Dirty Sanchez ran for four series on MTV from 2003 to 2007 – and even released a full-length reality film in 2006. The Daily Mail said the film should have been banned, describing the cast as 'three sado-masochistic Welsh chavs plus one equally talentless Londoner' and saying the film should stand as 'a record of what some nincompoops will do in order to achieve a spurious kind of celebrity.'
In the movie, Pritchard has the end of his little finger on his right hand cut off with a cigar cutter, then Joyce eats it.
Pritchard and Locke also starred as the Pain Men in Channel 4's Balls of Steel.
In a video released on Facebook, Pritchard said: 'An over-18s event so we can tell them everything. It's going to be full of fun and games: there's going to be laughter, there's going to be stories, there's going to be interaction.
'We're going to be there in the crowd saying hello to people and were' going to do meet and greet they are going to ask us questions.
'How many times do our fans ask us questions when we're out and about? How much did this hurt? What's the worst thing you've done? We're can answer them for you.'
They will be visiting Leicester, Oxford, Bournemouth, Bristol and Sheffield. Tickets are on sale now for all but the Bournemouth gig, which will be released at 9am tomorrow. Links and schedule here.
Dainton later added a video to say: 'Wales, Ireland and Scotland - hold tight, we will be over to see you.'
Published: 18 Jan 2018
What do you think?