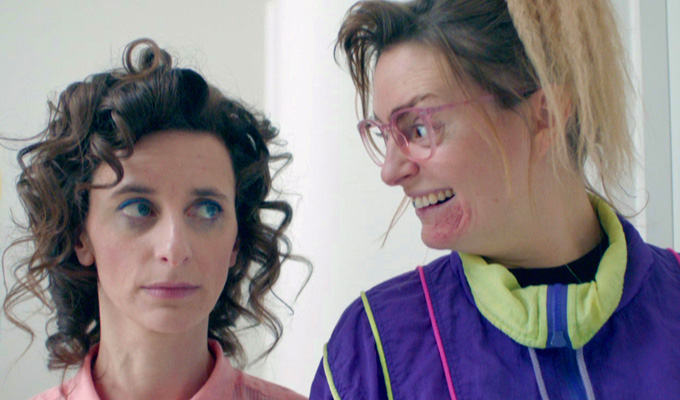 Blappy Christmas!
Channel 4 has released a new batch of Comedy Blaps featuring the likes of Rhys Darby, Rufus Jones and – as Chortle previously reported – Felicity Ward.
The online shorts are an established way for the broadcaster to test out new ideas from comedy writers and performers, with a view to making them into full series.
Three shows will launch on TV in 2018 based on previous Blaps: Jamie Demetriou's Stath, about a letting agent; Lee & Dean, a show about builders from new comedy talents Mark O'Sullivan and Miles Chapman; and Marc Wootton's High and Dry, based around the survivors of a plane crash.
Other series originating from Blaps include Chewing Gum, Bad Robots and Gameface.
Channel 4's head of comedy Fiona McDermott said: 'I'm really thrilled to be announcing this bumper crop of Blaps, a fantastic range of ambitious, complex and original comedy from a real diversity of talent. We're so proud that seven series to date have started life on this platform, it proves that from small things award-winning series can grow.'
The four new Blaps are:
Furious Andrew
A 13-minute odyssey of betrayal, revenge, and nappy rash. When special ops luminary Andy Stone (Rhys Darby) stumbles on a government-level conspiracy, his wife vanishes and Stone is left holding the baby. So he sets off with his 18-month-old daughter and their newly home-weaponised buggy in search of justice.
Home
A new comedy by Rufus Jones. When new couple Peter (Jones) and Katy (Rebekah Staton) – and Katy's son John (Oaklee Pendergast) – go on their first family holiday to France, the plan is to bring back a tan, a few happy memories and six crates of vintage champagne. What they actually bring back is going to come as a big surprise…
Lowdown
Lisa (Lisa Hammond) and Rachael (Rachael Spence) are friends –with the odd bit of fraud, thieving and blagging – until Lisa begins to question her relationship with a man who likes to treat her like a child, Rachael loses her criminal mojo, and they both wonder if their lives are about to change forever.
Three episodes have been released:
ANXIO(US)
Dr Maggie Wentworth (Felicity Ward) is a 30-year-old dentist, and is just trying to keep her shit together... figuratively and literally. Her job is on the rocks, her mum is in a care home with dementia, and her irritable bowel syndrome is playing up at work. Enter her anxiety, Beryl (Morgana Robinson): She's the voice in your head that keeps you up at night.
Here are the two episodes:
Published: 22 Dec 2017
What do you think?