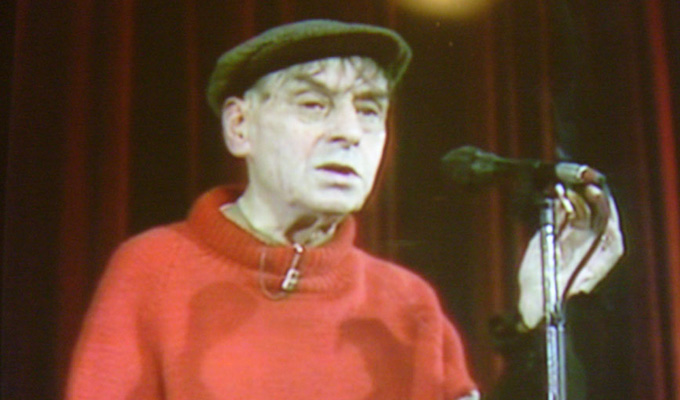 Watch the Bobby Thompson adverts 'banned' from TV
Here are the adverts for Sunderland comedy hero Bobby Thompson deemed unsuitable for broadcast.
Producers of his DVD The Little Waster, recorded in 1982, couldn't get clearance to show the commercials on TV because he smokes too much on stage.
And some of the jokes he cracked were deemed too offensive to modern ears, so had to be avoided too.
But the main issue was that the trademark Woodbine hanging constantly in his hand would break the advertising code. Even though attempts were made to remove the fag from the image, the smoke is still visible.
Producer Ray Laidlaw – the former  Lindisfarne drummer – told Chortle: 'We sent off around 20 scripts and four were refused because of the following reasons: likely to upset the recently bereaved, likely to encourage heavy drinking and likely to offend women.
'We then submitted the finished ads and they told us we couldn't use any of them because of the smoke visible in the air.  
'We pointed out that ads made from the same show with different gags had been broadcast many time before without a problem and they replied that attitudes had hardened and anything deemed to be encouraging smoking was now unacceptable.'
Clearcast, which works with advertisers to make sure their commercials comply with the guidelines said:  'We were recently asked to approve an ad for a Bobby Thompson DVD.  We were unable to approve the ad at this stage because it showed an excessive amount of cigarette smoke and [the rules] state, "Advertisements must not promote smoking or the use of tobacco products". 
'Separately, other ads in the series included jokes that we felt were now likely to cause offence. Public opinion changes over time and when looking at an ad, we have to be sensitive to some joke topics which we now feel might offend certain groups.'
Here are the four finished ads deemed unsuitable because of the smoking:
Thompson became a star in the North East working men's club circuit of the 1950s and 1960s, performing largely in a threadbare stripey jumper and flat cap. However, he found it hard to break through to a nationwide audience because of his regional humour and strong accent.
Off-stage, he struggled with drink, gambling debts and battles with the taxman. He died in 1988 aged 76.
Click here to buy The Little Waster DVD.
Published: 5 Dec 2017
What do you think?