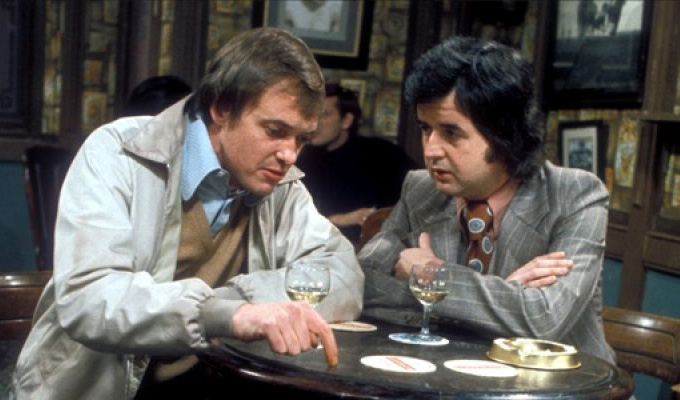 A rift? Not Likely
The Likely Lads star James Bolam has denied there was any feud with his co-star Rodney Bewes, who died yesterday at the age of 79
Bewes once called his co-star 'cruel' for blocking repeats of their classic comedy – and said they had not spoken since a fall-out 40 years ago.
Bolam was said to have been furious that his co-star betrayed a confidence when he let slip to a reporter that Bolam's wife was pregnant.
But in an interview with BBC Sussex this morning, Bolam insisted: 'I just remember him with great warmth and with great happiness and the time we had when we actually did the shows, that's the greatest memory of all.'
And he said that any disagreement was because 'Rodney wanted to do some more Likely Lads and I never did, I felt that what we had done was, to me, so perfect and so right that to try and bring it back [would be wrong]'
He told presenter Neil Pringle: 'There was no fallout at all, as far as I was concerned. We worked together very happily and very well, enjoyed each other's company and when we finished, we finished.'
However he admitted their on-screen chemistry was 'all acting'.
Bolam played the lovable sponger Terry Collier opposite Bewes's Bob Ferris in the sitcom, written by Dick Clement and Ian La Frenais.
Bewes blamed Bolam for robbing him of vital residual fees by blocking the show from being repeated on TV, saying: 'To stop other people earning money is cruel. He must be very wealthy. Me, I've just got an overdraft and a mortgage.'
The pair fell out over a 1974 interview, and never spoke afterwards.
Bewes told a journalist that Bolam nearly crashed the car he was driving when he learned he was going to be a father – a revelation that his former co-star considered a gross invasion of his privacy.
Here he Bewes speaking to Nick Owen about the incident in a 2008 interview
Published: 22 Nov 2017
Recent News
What do you think?