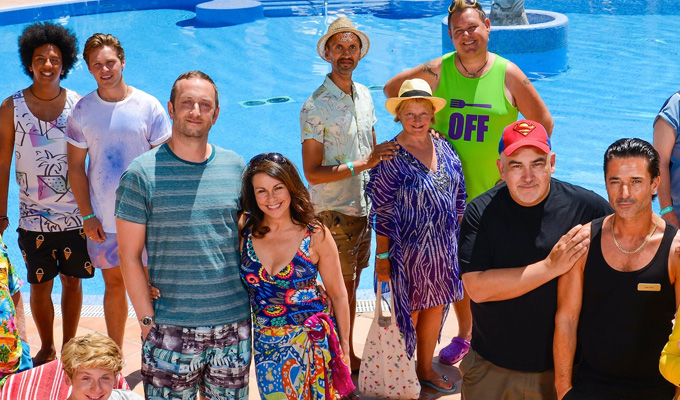 Benidorm stage show to tour in 2018
Benidorm is being turned into a stage show that will tour the UK next year.
Creator Derren Litten is working on a script based on the characters of his hit ITV show, although casting has yet to be announced.
However, a website promoting the show says: 'See your favourite stars from the Solana Hotel live on stage for the very first time.'
The project was first reported in August, but it has now been confirmed that the stage show will debut at the Newcastle Theatre Royal on September 7 next year.
It will run there for a week ahead of a major UK and Ireland tour.
Litten told the Newcastle Chronicle: 'I've been talking about this for five years at least. I've been trying to get it off the ground and trying to get a cast that's available but it has been really difficult. It hasn't been right before but the time seems to be right now.'
'There'll be a lot of the familiar characters and the familiar locations you see all the time in the show. It will be the bright, colourful, brash, lively Benidorm you've grown to love.'
The stage show is being produced by Michael Harrison, who is behind current West End hits Annie and Young Frankenstein with Ross Noble.
Filming on a tenth series of the ITV comedy wrapped in July and is expected to air early next year. It marks the return of Tim Healy, who plays Les/Lesley Conroy, who was written out of the last series because of illness.
Tickets for the Newcastle dates of Benidorm – Live! will go on sale next Friday.
Published: 2 Nov 2017
What do you think?